Cyriacus Izuekwe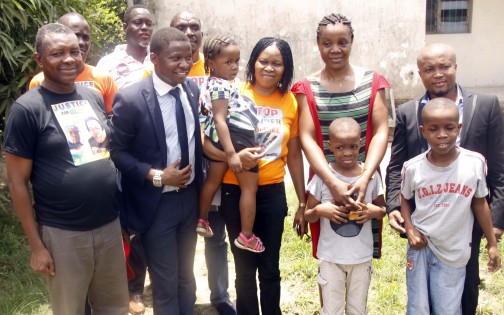 There was drama at Kirkiri court Wednesday after a man reunited with his estranged wife after signing an undertaking not to batter her again and it was celebrated with champagne in the court premises in Lagos State, western Nigeria.
The man, Jude Izuakor, was charged to court with assault after he battered his wife, Gloria and inflicted injuries on her, including her face.
The assault became a public issue after he abandoned the victim at a hospital to her fate.
Following the outcry, Women Arise, a non governmental organization led by Dr Joe Okei-Odumakin intervened and Izuakor was arrested and charged to court for the alleged offence.
As part of the deal to settle the matter, Izuakor offered to sign an undertaking not to assault her again through the intervention of their traditional ruler, Eze Obu Ezeike of Nibo.
Part of the undertaking include that he would allow his wife unhindered access to their matrimonial home and bed allegedly taken over by her husband's male friends.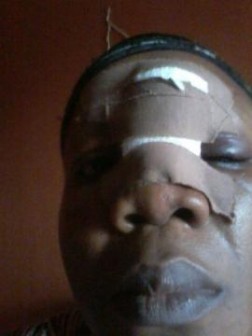 He also signed that he would treat Gloria as his wife and not a slave and would take care of his family.
Izuakor, who is businessman, was charged before the presiding Magistrate, Mr G. L. Hotepo with assault occasioning harm under the criminal code.
When the matter came up at the last adjourned date, Izuakor, through his counsel, indicated interest to settle out of the court with his estranged wife.
P.M.NEWS gathered that the settlement led to the estranged couple to travel to their home town to meet Eze Obu Ezeike of Nibo, their traditional ruler in Nibo in Awka south, Anambra State.
It was alleged that Izuakor apologized to his wife and signed an undertaking to live in peace with her and their three children.
When the matter came up Wednesday, Gloria informed the court that she had written a letter to withdraw the matter as part of the peace agreement reached.
Odumakin informed the court that Izuakor has shown remorse and has signed an undertaking to that effect.
Consequently, the court struck out the matter and discharged Izuakor accordingly.
While the celebration was going on at the court Izuakor thanked those who assisted to reunite him with his family and said he had learnt his lesson and said men need to be cautious on how to treat their wives.
Gloria on her part said she was happy to reunite with her husband and children and thanked Women Arise for the role it played from the beginning till the end.

Load more