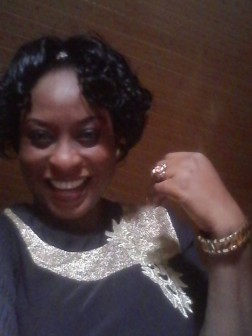 The gospel music career of Mrs. Peace Olanike Adeleke a.k.a. Angel of Peace, who converted from Islam to Christianity, blossomed in Côte d'Ivoire, and other neighbouring countries but the same cannot be said of where she hails from, Nigeria. In this interview, the Oshogbo-born artiste, who doubles as MD of a construction company Rocktionbase International, speaks about her musical career, her triumph over life's challenges among other sundry issues…
Can you tell us about yourself?
Am Mrs. Peace Olanike Adeleke, am from Osun but was raised in Ibadan, the Oyo State capital where my late mother hailed from. I was born and raised as a Muslim but converted to Christianity, and gave my life to Christ in 2002 after my elder sister who I was living with in Lagos preached Christ to me. I later had this very strong call to serve God, and to sing unto Him. I worshipped at Redeemed Church then.
My first album was released in 2005 in Côte d'Ivoire, the same year I got married to Mr. Favour Adeleke, who is now deceased. The album took me around a bit. Along the line, I had a very serious challenge with my health for good eight years, beginning from 2008 but God brought me out of the grave in April 2013. I came out of the grave, and started singing praises unto God. This second album, titled Ark of GOD, was released in December 2014.
Which of your albums would you say is the most successful?
The two have been successful though the first was released in Côte d'Ivoire, and it was not really known in Nigeria, however, it took me around some African countries, like Ghana, Togo, Benin Republic, Guinea Bissau, Burkina Faso, Senegal and some other countries.
Though we could not release it in Nigeria, God really tried on that album, titled Moment of Praise, because it was everywhere. This second album am marketing it myself, so I cannot say it has really done well, but I thank God we are moving on.
Not few secular artistes cut their teeth in the church, do you see yourself doing secular music in the nearest future?
I don't think so, I don't see myself in that realm, and I don't pray to go there. Am not condemning them. He has called me to sing praises to Him, and that is where I am.
What is your view about Maheeda, who used to be a gospel artiste like you but now popular for her nude selfies?
Well, it is a weird world. I saw a story about her recently that she used to be a gospel artiste, I believe that is her choice. She has chosen what she wants to do.
Why is it that crime is on the increase despite the presence of innumerable churches and mosques?
My view about it is that it is well. I see it as an end-time has come, and anything can happen. What is happening in the world has found its way into the church and mosques. We need to go on our knees. I see Nigeria as a sick country but it can be healed.
When you converted to Christianity how did your parents react?
Actually I lost my parents so early. However, when we started following my sister to church my mum, who was an Alhaja and Otun Seriki Adinni, did not like it but it later became an issue to laugh over.
Would you say gospel music is financially rewarding?
Very good question, am not looking for money by singing for God because any servant of God that sees the call as a way of generating income, then you are losing your ground. If you have God backing you, you don't have a need. You don't need to think about what to wear or eat. He is the one that would put food on your table. As a minister, once that thinking is because you want to make money, you are not doing good to yourself, and to God.
You said you are not moved by money, what is your view about pastors who amass wealth including owning private jets?
My father in the Lord, Bishop David Oyedepo has a lot of private jets, and my grandfather, Pastor Enoch Adeboye, they are dangerously blessed. We are all looking forward to be like them one day. We are all praying to have something to show that we are serving God like they are doing. I don't see anything bad in that. That is God's blessing because He said the blessing of the Gentiles belong to us.

Load more