Yusuf Muhammed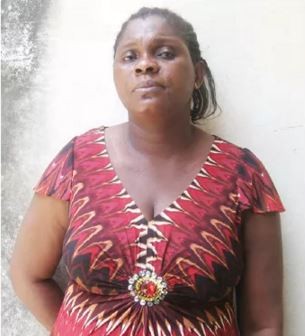 A pregnant housewife Mrs. Monica Momodu who resides at No. 9, Abiodun Adesugba Street, Oke-Afa Isolo, Lagos State, Southwest, Nigeria have been arrested by the police at Aswani division for allegedly burning her housemaid with hot iron.
According to the victim, Egbado Sera, a JSS II student of Maryken Private School, Isolo, on the day of the incident she was using her hand to fan her madam for a long time and she was very tired she asked to iron the children clothes when electricity was restored so while ironing the cloths she slept off.
When her madam noticed she was sleeping, she used the hot iron to burn her hand and leg.
Sera, 13, who hails from Irua, Edo State, Nigeria said she was afraid to tell anyone but her teacher noticed the injury and she asked her what happened, so she narrated her story.
She said her teacher then took the matter to Aswani Police Station where the Divisional Police Officer DPO in charge of the station, Mr. Akeem Adedeji SP ordered the arrest of the suspect.
However, the 39-year old Ekpoma-born Mrs Momodu denied the allegation levelled against her saying the iron fell on the victim when she was sleeping.
When our reporter visited the station, the DPO declined to comment on the matter and directed him to the Lagos state police spokesperson, Dolapo Badmus confirmed the story.
She said the suspect will be charged to court to serve as a lesson to others.
She adviced those that have domestic servants to stop domestic abuse.