Okafor Ofiebor/Port Harcourt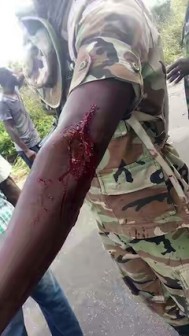 The communal crisis between Aladja, (Urhobos) and Ogbe-Ijoh (Ijaws) reached its peak with the invasion and sacking of a Divisional Police headquarters in Ogbe Ijoh, headquarters of Warri South West Local Government as well as loot of its armoury during a renewed communal clash between the two tribes in Udu Local Government Area of Delta state.
To quell the tension and impending disaster soldiers from 3rd Battalion had to be drafted into the crisis torn area before sanity could be restored.
It was learnt that the crisis which has been brewing for a while over boundary dispute between the two communities led to shootings and burning of houses.
Some reports however claim that the clash was ignited following an attack on Aladja women who were returning from their farms by some Ogbe Ijaw youths last Wednesday.
In retaliation, Aladja youths today blocked the only access road leading to Ogbe Ijaw community which allegedly led to the clash between the two communities.
Security sources disclosed that the police station located in Ogbe Ijoh was overran and their armoury looted during the crisis.
A reinforcement of mobile policemen were drafted from Warri to join the soldiers already deployed to the troubled area.
Chairman of Udu Local Government Area, Chief Solomon Kpoma told journalists that refugees from Aladja community were being accommodated at Udu town hall while that of Ogbe Ijaw were in Warri.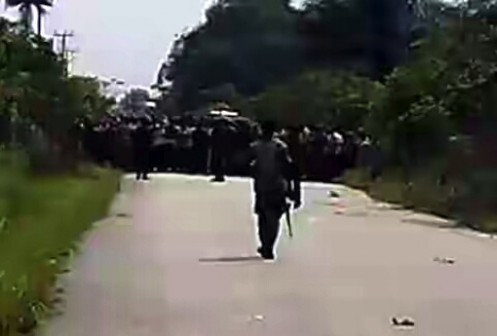 Also speaking on the clash, the Chairman of Warri South West Local Government Area, Hon. George Ekpemupolo said tension is "very high" even though the Warri Area Command of the Nigerian Police had waded into the matter into the alleged abduction of an Aladja woman who was returning from her farm on Wednesday evening.
"The woman who went to the farm was seized and taken to Ogbe-Ijoh by the youths who detained her behind a counter."
Meanwhile, residents of Ogbe-Ijoh, including corps members, are fleeing the community in the wake of Thursday attack.
The Chairman of the Waterways Security Committee, Chief Boro Opudu, who confirmed the report said security operatives were battling to restore normalcy to the area.
The Warri Area Commander of Police, ACP Muazu Mohammed confirmed the renewed bloody clash.