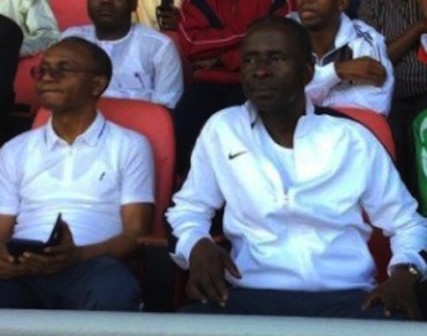 Architect Barnabas Yusuf Bala, the deputy governor of Kaduna state has dismissed talks of a fight with his boss, Governor Nasir El-Rufai blaming the rumour on journalists from Southern Kaduna.
Bala popularly referred to as Bantex reacted to the news that he exchanged slaps with El Rufai during his 2016 Ham Day address on Sunday, 27 March.
He said he was aware of what he described as ridiculous rumour and that it was a ploy to unsettle the Kaduna state government. "I am aware for instance of the spread of a ridiculous rumour seeking to paint me as the victim of a fictitious fight. This sort of lies are being spread by certain journalists of southern Kaduna origin.
He then quizzed their motive. "For what reason? It seems they cannot believe the strength and vitality of the relationship that Malam Nasir El-Rufai and I have built in the service of Kaduna State.
"Together we shall deliver the promise of the Restoration Programme, our party's manifesto, for the benefit of all our people," Bantex said.
He the noted that: "We should reject shrill cries that often betray prejudice and be firm that we must be guided by logic and history. For all that Kaduna State has suffered from religious violence, the many lives lost and the divided neighborhoods that have sprung up as a result, it seems that some people have forgotten.
Speaking on the religious bill pushed by El-Rufai, he said: "As leaders, we cannot ignore the fact that the threat of religious violence has not disappeared, and that we have a duty to confine such things to the past. That is what the Religious Preaching Bill seeks to do, to remove the possibility that irresponsible preachers and zealots of religion wilł wreak havoc in our communities, or put at risk the wellbeing of others. The bill does not in any way prevent anybody from practicing their faith. It is firmly intended to disallow any attempt to use religion to diminish, disturb or destroy others or to threaten their lives.
"The circumstances that necessitated the enactment of the law in 1984 are still with us. We can all recall the horrors caused by Maitatsine, a foreigner whose intolerant preaching and activities led to violence in Kano and other parts of northern Nigeria. The 1987 religious violence which started in Kafanchan spread to Kaduna and Zaria. More recent eruptions include the Sharia riots, Miss World, Danish cartoons and some of the upheaval after the 2011 elections.
"This is the first time the Religious Preaching Bill is being subjected to democratic scrutiny. It is undergoing legislative processes at the Kaduna State House of Assembly. It is time to stop the scaremongering. Everyone with a view on the bill should vigorously argue it during the public hearings the legislature will organize. This government supports faith, and will enable its practice in secure conditions.