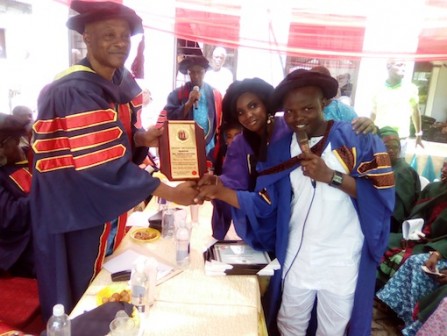 No fewer than over 350 youths have benefited from this year's empowerment program organised by Lagos Island East Local Council Development Area, Lagos, southwest Nigeria.
The event which was held at the council's secretariat last Thursday, witnessed the convocation of youths who have undergone training in photography, make-up, headgear making, catering and bead making and other vocational schooling.
Speaking on the vocational program which was organized in conjunction with a non-governmental organisation, Ekomi Initiative, the Executive Secretary of the Council, Mr. Adisa Lookman Omotosho, said the scheme is aimed at liberating the youths in the area from the unemployment crisis confronting the country and that it was designed to mould them to be self-reliant.
According to Honourable Omotosho "We decided to throw our full weight behind this program as proposed by Ekomi Initiatives, because we are in the era of 'change', and skill acquisition is paramount to achieving change.
"It embedded with a didactic value that will make the beneficiaries thrive in this critical period where economic rhetorics and theoretical postulation are begging for practical applications that will engender financial freedom and independence."
The Council's Executive Secretary, who described education as a right not a privilege of every children in the area, said his regime had embark on series of educational programs aimed at liberating, shaping and redirecting the the orientations of the children in the area positive ways of life.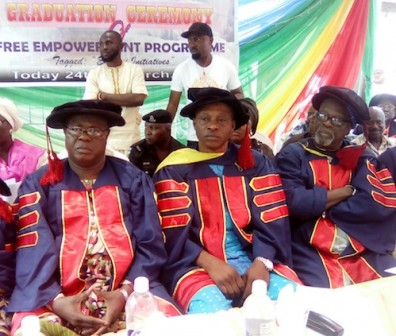 These programmes according to the Council boss includes, back-to-school program, where pupils of 21 primary schools were given branded exercise book, school bags, educational materials, rehabilitation of permanent site of the council's skill acquisition Centre, and hosting of national campaign program on cultism.
Omotosho charged the beneficiaries of the vocational training to empower themselves at this crucial period.
Also speaking was Qudus Razak, promoter of Ekomi initiative. He commended the local government for accepting the initiative, noting that, the initiative was inaugurated about two years ago.
"This initiative was borne out of a long strike about two years ago, and we considered that instead of allowing youths embrace vices capable of destroying their life, we should engage them in positive things," he said.
He charged the beneficiaries to repackage themselves in whatever vocation they have acquired.
A community leader, Pa. Florentino Sanya, the Council's chairman Community Development Committee, CDC, urged the Council to assist the graduands with stipends which he said will serve as take off grant for the graduands.
Other dignitaries at the event includes: Chief Muftau Kadiku, the former chairman of the LCDA, and other leadership of All Progressive Congress, APC, in the Council area.