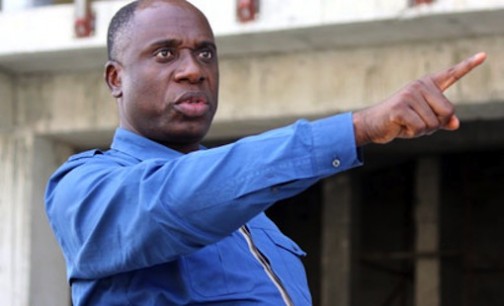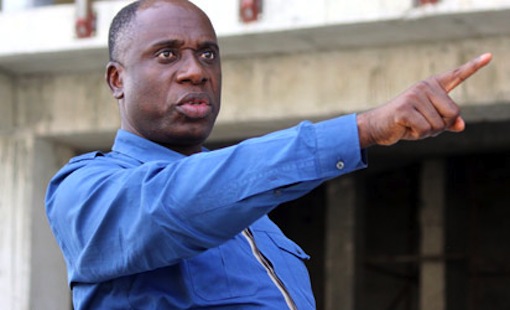 Minister of Transportation, Rotimi Amaechi has described Governor Nyesom Wike as a shameless liar who has openly displayed his ignorance in public.
Amaechi who was reacting to Wike's statement on the Rivers monorail, explained that Wike does not understand that the monorail project belongs to the Rivers people and not him (Amaechi).
Wike had over the weekend said he would not touch the monorail project because Rivers people urged him not to.
Reacting to Wike's statement, Amaechi said: "Governor Wike said that he will not touch Amaechi's monorail and that the entire state has told him not to continue with the project. Can someone please tell Wike that the monorail belongs to Rivers State and it's not Amaechi's private monorail? Amaechi quizzed.
He then stated that: "Governor Wike which Rivers people told you not to touch the monorail project? Is it the same Rivers people that have consistently praised the project and see it as a catalyst to jump-start the local economy and place the state at the forefront of transport infrastructural development in Africa? Or is Wike aggregating the jaundiced views of the coterie of court-jesters that hang around him daily, as the opinion of the entire people of the State?
"It is sad, very sad that Wike has elected to play politics with this laudable project that was almost completed before Amaechi left office."
Amaechi who preceded Wike as governor of the state then described Wike as a "shameless liar" for either underplaying projects embarked upon by his administration or cornering them as his achievement. "Governor Wike also described several ongoing projects in the State when Amaechi left office as 'abandoned projects' that he claimed to have completed or about to complete.
"He specifically mentioned the Ogoni-Andoni-Opobo Unity road that connects the Island of Opobo to Andoni and the rest of the State. What a shameless lie! This project was ongoing and was almost completed as at May 29, 2015. May we also remind Wike that the Eagle Island- Diobu road that he once claimed to have been abandoned was 90 percent completed with just the final course of coal tar remaining as at when he succeeded Amaechi."
"It's repudiating that Wike would even attempt to rubbish and destroy the laudable projects and achievements Amaechi made in the health and educational sectors as governor.
"Shamefully, what has happened in the past months since Wike became governor is that Wike has neglected the model schools and health facilities built by Amaechi and have allowed them to rot away, taken over by weeds and grasses, in tandem with his policy of not wanting to touch Amaechi's projects or build on Amaechi's enduring legacies.
"Governor Wike, these projects belong to Rivers State and its people, not Amaechi," he reiterated.