Kazeem Ugbodaga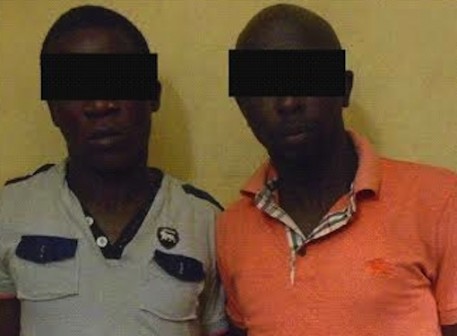 As part of efforts to curtail act of criminal activity in Lagos State, the operatives of Rapid Response Squad (RRS) of the State Police Command, have apprehended two suspects alleged to be members the Ofa syndicate which had in the past been defrauding unsuspecting members of the public around Lekki-Ajah Expressway.
The two suspects, Ojo Dauda, 30, and Segun Olatoye, 36, were arrested on Monday at about 1:00pm, about a week after swindling one Abayomi Ayoola, 28, on the same expressway.
Narrating how he was duped by the suspects, Abayomi, explained that "on Thursday, March 26th 2016, I dropped my boss' wife in her shop at a plaza on New Road and she sent me to the bank to deposit certain amount of money. While coming from the bank, one of the suspects asked me if I know a man called Baba Ijebu, and I told him no.
"Suddenly, another guy met us at the same spot, whom I later found was with the first lad. In fact, I don't know how they took me to Alpha Beach, where my Automated Teller Machine (ATM) card was collected. They used credit card to withdraw N15,000:00 from my accounts.
"Before, that, they took a sum of N30,000:00, which I had on me, and a Q10 Blackberry and a Nokia phone. They abandoned me and they
took to their heels" the victim narrated.
Abayomi noted that "Since then, I have kept a tab on them. When I saw them again at that same spot on Monday, March 27, 2016, I rushed quickly to go and call the RRS operatives who are working within axis, to assist me in arresting them. I thank God that they were eventually arrested."
The Police said that the victim informed them while they were on patrol routine along the expressway. "He ran to us and explained that some group of men have collected his belongings including certain amount of money. And instantly, we followed him to the spot where the two suspects were apprehended," the police said.
One of the suspects, Ojo Dauda, who confessed to the crime, revealed that he was lured into the illegitimate job after he was duped about a year ago.
According to him, "in November 2015, while I was on my way home from work around Ikorodu area, a guy, later identified as Olaiya, accosted me to ask for direction to somewhere in the area; after giving him the description of the area he asked for, he went further to cajole me to walk some miles with him"
He continued that, "Before I could gained my consciousness, I didn't find money on me any longer. I rushed down to the spot where he asked for directions and I found him there."
The suspect added that "But he told me that he can't refund my money that the money has been shared immediately I left. He now gave me an option to join them to dupe people in a similar manner. He told me I would realise N10, 000:00 per day, so I joined him in fraud business in order to support myself financially".
"I have made a lot of money but I cannot say exactly how much I made because I don't keep my money in the bank. The money made was spent on frivolous things," he added.
The suspect revealed that he operated around Jakande Estate, Lekki-Ajah Road. "My base is Jakande in Lekki-Ajah Expressway while others also position themselves around the axis and in the state as a whole. Every night, we all converge at Olaiya's house (group leader) around Jakande where we share anything we realised for the day", Dauda confessed.
On his part, Segun Olatoye, who also confessed to the crime, noted that he was just being introduced to the business about two months ago. The suspect said that he joined the syndicate after his dry cleaning business had challenges.
"I am a native of Ekiti State from Imoba Local Government Area (LGA) but I was born and bred in Lagos State. I was once a dry cleaner but left the job. I joined the syndicate about two months ago. To be truthful, on my own account, I have duped three people where I made N200, 000:00," he explained.