Abiodun Onafuye/Abeokuta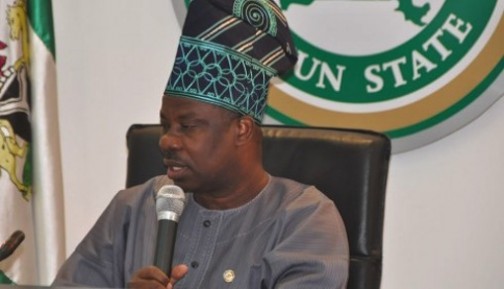 Effective from the end of April, salaries of public and civil servants in Ogun state will be paid based on the Bank Verification Number (BVN) system.
In a statement signed by the Senior Special Assistant, SSA on media to the governor, Adejuwon Soyinka, he disclosed that it was part of the resolutions reached in a follow-up meeting between the leadership of the organised labour movement in the state and officials of the state government.
The leadership of the union have been engaging the state government officials in meetings with a bid to resolve the impasse which led to an industrial action by the workers last month.
The strike was later suspended after the intervention of some respected personalities in the state which included the traditional rulers in the state.
At the last meeting on Friday, the two parties resolved to find lasting solution to the lingering issues, promising to continuously work harmoniously for the progress and development of the state.
The state government team was led by the deputy governor, Chief (Mrs) Yetunde Onanuga while the labour body was led by the Chairman of the Joint National Council, Comrade Abiodun Olakanmi.
Addressing newsmen after the meeting, the Secretary to the State Government, SSG, Barr. Taiwo Adeoluwa said, "Ogun State is unique as we have continued to engage and dialogue with the organised labour.
"As part of our continuous discussions, we have both agreed that we should take advantage of the BVN system to ensure that our scarce resources are not going to ghost workers.
"In view of this, we have agreed that starting from the end of April 2016, salaries will be paid using the BVN of all workers", the SSG disclosed.
In their separate responses on behalf of the organised labour movement, the JNC Chairman, Comrade Abiodun Olakanmi and the State Chairman, Trade Union Congress, TUC, Comrade Olubunmi Fajobi expressed satisfaction with the state government's position on the need to use BVN for salary payment.
They however requested that the decision be officially communicated to the civil service through the office of the State Head of Service.
In an exclusive interview with PMNews after the meeting, the State Deputy governor, Chief (Mrs.) Yetunde Onanuga maintained that the state government appreciated the workforce and will never look down on them.
According to her, "in living up to our billing as a uniquely peaceful state, the leadership of the organised labour movement in Ogun State and state government officials have continued to dialogue with a view to finding a lasting and more sustainable resolution of the demands of the workers".
She further explained that the Friday's meeting was one of a series of engagement between the labour movement and the state government.
"As stakeholders, we are committed to jointly finding a lasting and sustainable solution to the issues raised by the labour movement," she posited.