Kazeem Ugbodaga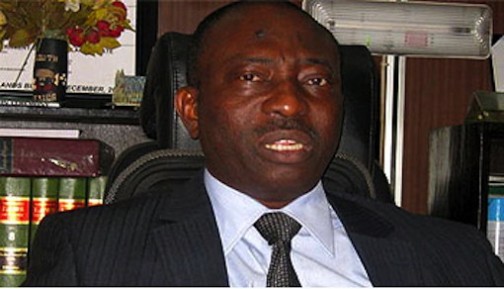 Former Solicitor-General and Permanent Secretary, Lagos State Ministry of Justice, Lawal Pedro (SAN) has debunked allegation that he defrauded Chief Afe Babalola's firm (SAN) of $10 million in professional fees.
Babalola had petitioned the Independent Corrupt Practices and Other Related Offences Commission (ICPC) to investigate Pedro for allegedly defrauding his law firm of $10 million in professional fees.
Babalola also wants the ICPC to investigate how the family of Gbadamosi Eletu of Osapa Village, Lagos substituted his law firm for that of Pedro, thereby depriving his firm of $10 million professional fees.
Reacting on Monday, Pedro in a statement stated emphatically stated that he did not and could not have defrauded Babalola or his firm of $10 Million professional fees or any amount, saying that, the allegation was not only false, but malicious, having regard to the facts on ground.
"I wish to state that his petition to the ICPC which I have responded to, was as a result of his misunderstanding of my role in the settlement of the Supreme Court Judgment in favour of his clients (the Gbadamosi Eletu family) in suit No. SC/146/05.
"On the 13th of March, I was with Chief Afe Babalola, SAN in Ado Ekiti to resolve the misunderstanding and we have been relating since then. We still spoke today and I verily believed him when he informed me that he did not authorize or authenticate the publications of the 4th of April, 2016. I also have his text message to that effect," he said.
​According to Pedro, "for the record, I was the Solicitor General of Lagos State when I chaired the settlement meetings of representatives of government (from Lands Bureau, Surveyor General office, Land Registry, Ministry of Physical Planning and Ministry of Justice), the Judgment Creditors (Eletu Family) and Solicitors and 3rd parties who have fully or partly developed the judgment land with government's approval and consent to their title. They include NICON, UAC PDC, Beach Resort Nig. Ltd., Lekki Silver Touch Nig. Ltd. etc.
"At the end of the several meetings held in the conference room of the Ministry of Justice, I was able to persuade the Eletu family to agree to accept alternative parcel of land in replacement of the 216.7 Hectares of land at Osapa awarded to them in the judgment.
This is in forbearance of execution of the said judgment by Eletu family against the 3rd parties/occupiers of the land to avoid breach of peace, destruction of properties and injuries to persons which may occur in the event of execution as evidence by the initial attempt at execution and which made the government to intervene in the matter," he explained further.
Pedro added that eEven though the non-execution of the judgment delayed the immediate payment of Babalola's fee by his clients, he acted in the best interest of the people in arriving at a resolution of the matter between the parties concerned, saying that he did not abusehis official office at any time or in the settlement of the said judgment or any case that arose from it.
"I also deny hijacking any brief for any law firm or as alleged. As regards Chief Afe Babalola's professional fees, it is a matter between him and his clients (the Eletu family) which I am aware is a subject of a pending case which parties are trying to resolve in suit No. LD/1827LWM/15.
"There is no problem between me and Chief AfeBabalola, SAN and I verily believe that the publication must have been sponsored by some people with intent to injure me in my credit, reputation and profession for reasons best known to them. I leave them to their conscience and wish them well," he stated.
However, In Babalola's petition to the ICPC, he explained how Pedro allegedly abused his office and hijacked the briefs he handled for the family of Eletu in Supreme Court while his professional fees had not been paid.
The petition further requested the ICPC to investigate the corrupt practices in respect of the settlement of some lawsuits, which Pedro concluded in connivance with the Eletu family and other parties "to defraud his law firm of its professional fees."
Babalola stated that the Remedium Chambers was the private law firm, which Pedro allegedly used fraudulently to hijack the briefs of other lawyers while he was in the employment of Lagos State Government.
READ: $10m Scam: Afe Babalola petitions ICPC to investigate ex-Lagos Solicitor-General