Kazeem Ugbodaga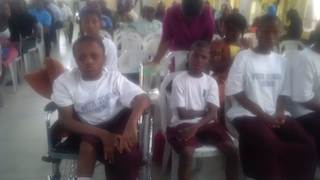 The Lagos State Government has warned against discrimination against People Living with Disabilities, PLD, in work places and the society at large.
General Manager, Lagos State Office for Disability Affairs, LASODA, Dr. Babatunde Awelenje issued this warning on Monday at the flag-off of a three-day training on sign language for civil servants which held at the Lagos Government Secretariat, Alausa, Ikeja in Lagos, Southwest Nigeria.
Awelenje decried discrimination against PLD and warned that the office had in the past intervened in such cases and ensured that the culprits were brought to book.
He urged PLD to report cases of discrimination to LASODA and prompt action would be taken to remedy the situation, as government was determined to protect the rights of physically challenged persons.
The LASODA boss said the office would also be exploring advocacy to enlighten the public not to discriminate against PLD, adding that jingles would be played on radio for people to show empathy towards the physically challenged.
He disclosed that 150 civil servants were being trained on sign language so that they would be able to interact with people who have hearing impairment whenever they come for transaction in government establishments.
"The essence of this training is to integrate people with deafness into our society through sign language training. We have different clusters of disabilities, such as blindness, deafness, intellectual disability and so on.
"People with deafness have only one challenge, which is verbal communication. That is why LASODA is teaching people who could hear sign language so that they would be able to communicate with people with hearing impairment," he said.
Awelenje said by next year, the office would take the sign language training to the corporate world by involving Non-Governmental Organisations dealing with disability to take the message out for the benefit of people with hearing impairment