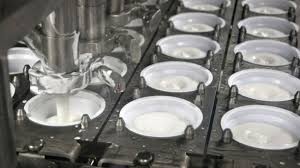 The Standards Organisation of Nigeria (SON) on Monday in Kaduna sealed the TOSCO Standard Yoghurt factory over alleged unhygienic environment and non provision of some facilities.
SON said the factory lacked ultra violet treatment for water and yoghurt.
The State Coordinator of SON, Alhaji Abba Bauchi, led the routine inspection of the factory.
According to him, the firm's environment is unhygienic and not good, adding that the wrong must be corrected.
"That is why we have to put the production of the factory on hold until all the wrong things are rectified."
Buachi said the inspection traditionally started with raw materials, production process and the environment.
He said some of the abnormality at the factory included lack of freezers to keep its product in good condition.
"The company lacks the good manufacturing practice.
"We have been advising the factory for over a year on the same issue but they did nothing.
"SON is to facilitate businesses, not to kill businesses."
Meanwhile, the Managing Director of the company, Mohammad Ghazali, said it had been operating for over 20 years.
Ghazali said the company did not compromise the standard and quality of its product.
"The SON and the factory have a cordial relationship."
He assured the public that the company would rectify the abnormalities.
He said the company had a workforce of over 50, adding that its sealing might effect members of staff and their families.
"We will address the problem quickly."