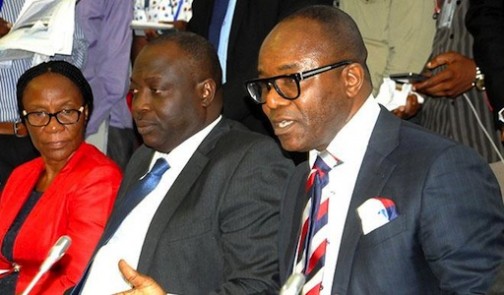 The Minister of State for Petroleum, Dr. Ibe Kachikwu, has reiterated the commitment of NNPC to end the lingering fuel scarcity in the country this week, noting that, by Thursday there will be no queues in Lagos and Abuja.
Kachikwu gave the assurance during an official visit to the Petroleum Products Pricing Regulatory Agency (PPPRA) on Tuesday in Abuja.
He said that by Thursday, there would be no queues in Abuja and Lagos filling stations.
"We have to take the right policies to see that things are done well.
"I hope that tomorrow slash Thursday queues in Abuja must have cleared; hopefully the same thing will happen in Lagos.
"By weekend, we will see same in Sokoto, Port-Harcourt, Warri and others," he said.
He called on members of staff of the agency to continue to work diligently to ensure efficiency in the system.
The minister said that PPPRA remained a major stakeholder in the regulation of the sector.
Mrs Sotonye Iyoyo, the PPPRA acting Executive Secretary, commended the minister and solicited his support for the smooth running of the agency.
Iyoyo said that the agency was faced with policy, operational and administrative challenges.
According to her, low capacity utilisation of nation's refineries, inadequacy of import reception and discharge facilities are some of the operational challenges.
On administrative challenge, she said that the agency was currently understaffed as field operations were being supported by temporary staff.
She called for early resolution of these issues to help motivate staff to ensure result and increase in productivity.
The scribe said that going forward, the agency would want automation of the PPPRA operations for improved efficiency and transparency.
"Development of a pricing frame work to encourage local refining and discourage importation of petroleum products in long term.
"Immediate passage of the PIB to provide a vibrant legal and regulatory framework for the oil and gas industry," she said.
On how to improve the supply of petrol, she said NNPC should negotiate with Indorama Petrochemical Eleme not to export cracked C5 especially during the fuel scarcity.
"Cracked C5 is an important refining blending component to boost PMS volume.
"The component can be supplied to the refinery in exchange for Propylene Rich Feed (PRF) from fluid catalytic cracking unit," she said.
She said that the agency in conjunction with other stakeholders could work out the commercial frame work for the strategic fuel reserve.
Iyoyo said that marketers should encourage the development of Single Buoy Mooring to eliminate delays during discharge operations at the jetties.