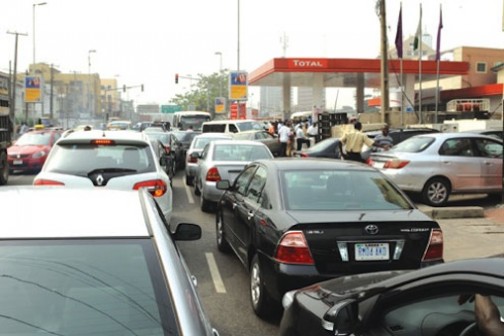 Transport operators in Lagos on Tuesday lamented the lingering fuel scarcity in the country and urged the Federal Government to take urgent measures to resolve the crisis, to forestall a complete breakdown of their business activities.
The operators, who spoke with NAN in Lagos, said that the ongoing fuel crisis had become a clog in their regular business operations.
NAN reports that the ongoing fuel crisis had adversely affected transport fares for destinations both within and outside the Lagos metropolis.
NAN checks revealed that Agege to Yaba or Alausa now goes for N400 and N150, instead of N150 and N70 respectively, while Iyana-Ipaja to Oshodi is pegged at N300, instead of N100.
From Ikorodu Garage in Lagos to Ogijo in Ogun State, along the Ikorodu-Sagamu Road, is now N200, instead of N100, while the fare from Ikorodu to Mile 12 is now N250, instead of N150.
Also, a trip from Lagos to Abakaliki which was between N3, 000 and N3, 200 now goes for between N4, 000 and N4, 500.
A one-way trip from Lagos to Enugu, Onitsha and Owerri which were formerly N3, 100, N2, 100 and N3, 100, respectively, is now pegged at N3,800, N2,500, and N3,800, respectively.
A driver, Mr Tunde Ajani, who operates the Oshodi to Orile Iganmu route told NAN that the transport business had not only become stressful but was no longer lucrative because of the hardships encountered in the pursuit of fuel.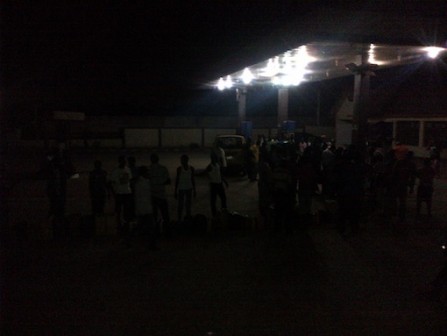 "On the days I want to buy fuel without patronising the black market, l spend more than two hours at the filling station and you know what that means to the business.
"I will at the end of the day make my delivery to the owner of the bus, who does not care about how and where I get my petrol.
"It has become a ritual of headaches and worries each I think of where the 5-litre petrol might come from," he said.
Another driver, Mr Francis Osoko, who plies the Ikorodu to Yaba route, said he spends more of his daily income on petrol from alternative sellers, otherwise known as the 'black market'.
"Some filling stations in Ikorodu sell one litre for between N180 and N190, depending on where you go, while the black market now sells 10 litres of petrol for as much as N4,000.
"So, government should find a solution to this suffering, because it is we the poor people that are bearing the brunt," he said.
Mr Chika Obinna, who plies the Oworonsoki-Lagos Island route, said that the situation had prevented him from venturing out either in search of petrol or getting behind the wheels.
Mr John Ezaka, the General Manager of Christ Light Transport Company, whose vehicles ply the Lagos-Abakaliki route, told NAN that sales have reached an all-time low.
"We have 50 buses on our fleet located in our three parks in Lagos, Ijebu-Ode and Abakaliki.
"But since the beginning of the year, our business has been experiencing a lot of challenges, particularly the scarcity of fuel.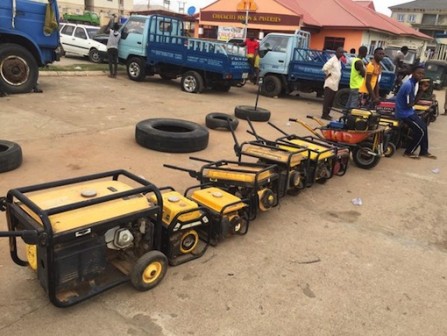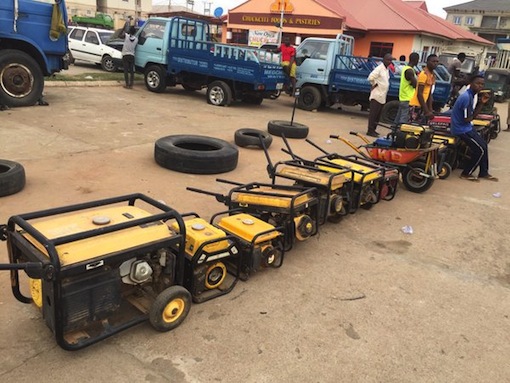 "We have had to increase our transport fares from the N3, 200 to N4, 200, but we discovered that many people are now afraid to travel because they are not able to afford our new fares.
"In the past, a total of three or four buses departed Lagos for our various destinations daily, but now, we would be lucky to have even one full bus daily.
"It wasn't this bad last year, so our sales have seriously reduced," he said.
Mr Innocent Orji, a driver at Okeyson Transport Company in Ikorodu, also said that apart from the increased transport fares, the situation had affected average travel time.
"Even at that, the queue is so long that sometimes you spend about two hours before getting to the pump. Imagine what that does to the total travel time.
"So, it is not a good experience for either the driver or the passengers," he said.
NAN reports that the situation has also affected the charges of some commercial motorcyclists who dare to operate along some restricted routes in the state.
For instance, a ride from Sabo in Ikorodu, to Ogijo in Ogun State had doubled from N150 to N250, while Ikorodu to Mile 12 now costs between N600 and N1, 000.
Meanwhile, some passengers who spoke to NAN described the situation as "unbearable".
Mr Jericho Adeyinka, a fashion designer who works on the Island said: "the fuel wahala has almost crippled my business. I can no longer go to the office regularly because I cannot afford the fares, neither am I able to buy petrol for my generator.
"So, what I have decided to do is to work from home on certain days, so that I don't disappoint my clients," he added.
Meanwhile, many workers in Lagos were stranded at various bus stops within the Lagos metropolis on Tuesday, following the lingering nationwide fuel scarcity.
NAN correspondents who monitored the traffic situation in various parts of the Lagos metropolis reported that workers stood for hours at the various bus stops, waiting for vehicles to convey them to their destinations.
It was also observed that the gridlocks on some major roads in the city were caused by long queues of vehicles at fuel stations within the metropolis.
Many commuters who could not continue to remain in the traffic resorted to trekking.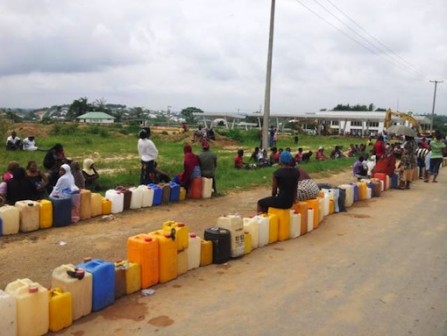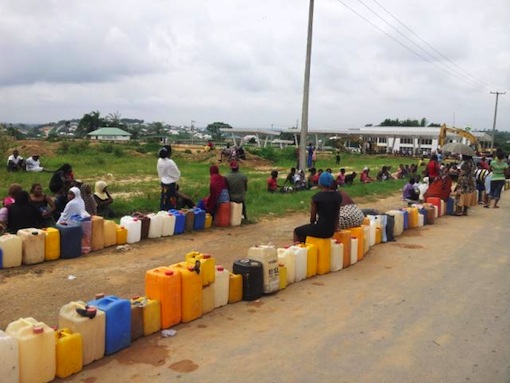 Fuel scarcity is killing businesses – Transport operators
Mr Williams Dada, an Accountant said, "it is unfortunate that we find ourselves in this kind of hardship. Things are really becoming difficult for us as a people.
"I brought my car out but when I saw the heavy traffic along the Lagos-Abeokuta Expressway, I parked it somewhere to board commercial vehicle because I have just a little fuel left."
Dada urged the relevant authorities to save workers from suffering further pains because of fuel scarcity.
A Civil Servant at the Maryland bus stop who pleaded anonymity said, "I am actually going to my workplace at Falomo, but getting a vehicle is just not easy.
"I don't know when I will get to the office today, but it can't be earlier than 11 a.m. because this is already a few minutes after 9 a.m., meanwhile I left my house at Ayobo by 6:15 a.m."
Mrs Tayo Akinwande, a nurse, said she had waited long at the Mushin bus stop for over two hours without a bus to convey her to Yaba.
"The few commercial buses in operation complained that fuel was not only expensive but also scarce," Akinwande said.
Miss Lucy Anikwe, a student of Computer Science at the University of Lagos, said she had her shoes torn, having walked from Cement bus stop along the Lagos-Abeokuta Expressway to Ikeja.
"You can see the way I am sweating, I was at the bus stop for over one hour 45 minutes before I decided to walk and after my sandal got spoilt, I resorted to walking barefooted.
"This problem of fuel scarcity started in November 2015 and it should be solved urgently, as it is exposing people to a lot of stress," Anikwe said.
Mr Olanrewaju Dunmiju, the Manager of Motlan Printing and Press at Oshodi, said he was stranded at Iyana-Paja for over three hours before he decided to walk to the next bus stop.
"I have a lot of work to do at the office, so I can't afford to waste my time waiting endlessly at the bus stop because those I met there are still there," Dunmiju said.
Also a Civil Servant, who preferred anonymity, said that fuel scarcity had made transportation fares to increase, to such an extent that he had to wait longer at bus stops for cheap vehicles.
"The fares have increased so much. Most drivers complained that a littre of fuel now sells for between N150 to N160 at petrol stations and above in black markets," she added.