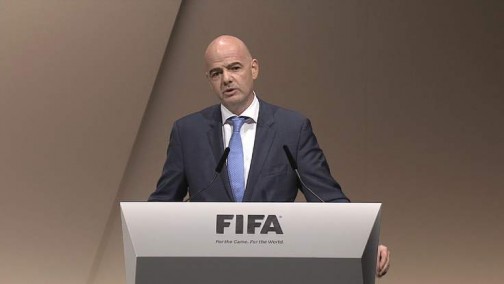 The offices of European football's governing body Uefa have been searched by Swiss police.
It follows the naming of ex-secretary general Gianni Infantino – now president of world governing body Fifa – in papers leaked from Panamanian law firm Mossack Fonseca.
Meanwhile, a Fifa official also named in the papers – Juan Pedro Damiani – has resigned.
Infantino has denied wrongdoing while Uefa says it is helping police.
While working for Uefa, Infantino co-signed a television rights deal in 2006 with two businessmen who have since been accused by the FBI of bribery.
Cross Trading – owned by Hugo Jinkis and his son, Mariano – bought TV rights for Uefa Champions League football in 2006 for $111,000 (£78,000) and immediately sold them on to Ecuadorian TV broadcaster Teleamazonas for $311,170 (£220,000).
Cross Trading also paid $28,000 (£20,000) for the rights to the Uefa Super Cup, selling those to Teleamazonas for $126,200 (£89,000).
The contract came to light after 11 million documents were leaked from Mossack Fonseca.
A statement from Switzerland's Office of the Attorney General (OAG) said a "co-operative search" took place "for the purpose of securing evidence".
It said its criminal proceedings were connected to the acquisition of television rights and were "directed against persons unknown, meaning that for the time being, no specific individual is being targeted".
It added: "The suspicion is based on the result of findings that have emerged from other proceedings, as well as the corresponding financial analyses carried out by the OAG.
"Current publications in the media subsequently revealed still other elements that made it possible to complement the existing findings in a decisive manner.
"The final impetus was provided, in particular, by confirmation on the part of Uefa that it had concluded contracts with Cross Trading SA."
Uefa initially denied doing business with any of the 14 people who have been indicted by the FBI in its investigation into corruption in world football.
It has now told the BBC the TV rights were sold to the highest bidder in an open and competitive tender process.
It also stressed it has been "conducting a review of its various commercial contracts" following the US indictments in May 2015.
Uefa also backed Infantino, who left the organisation after being elected Fifa president on 26 February, describing him as "an outstanding member of Uefa staff for many years" and "a man who has always acted with complete professionalism and integrity".
A senior Fifa source has told the BBC the 2006 deal should be examined by the governing body's ethics committee in the interests of transparency.
There is no evidence to suggest Infantino – then Uefa's director of legal services – received a bribe relating to the contract with Cross Trading, and no suggestion Teleamazonas was in any way complicit in any wrongdoing.
Cross Trading also has links to Damiani, who has already been placed under internal investigation by Fifa.
On Wednesday, he resigned from Fifa's ethics committee.
"We can confirm that Mr Damiani resigned from his position as member of the adjudicatory chamber of the independent ethics committee of Fifa," panel spokesman Marc Tenbuecken told the AFP news agency in an email.
Leaked Panama documents suggest Damiani and his firm provided legal assistance for at least seven offshore companies linked to Eugenio Figueredo, a former Fifa vice-president who was among the 14 people arrested last May in Zurich as part of the US inquiry.
How did we find out about this?
It is down to a leak from the internal files of Mossack Fonseca.
Mossack Fonseca is a Panama-based law firm that specialises in helping the wealthy and powerful set up offshore companies, like Cross Trading.
The documents were obtained by the German newspaper Suddeutsche Zeitung and shared with the International Consortium of Investigative Journalists.
BBC Panorama and the Guardian newspaper are among 107 media organisations in 78 countries that have been analysing the documents.
Panama Papers – tax havens of the rich and powerful exposed
Eleven million documents held by the Panama-based law firm Mossack Fonseca have been passed to German newspaper Sueddeutsche Zeitung, which then shared them with the International Consortium of Investigative Journalists.
BBC Panorama is among 107 media organisations – including UK newspaper the Guardian – in 76 countries that have been analysing the documents. The BBC does not know the identity of the source.
They show how the company has helped clients launder money, dodge sanctions and evade tax.
Mossack Fonseca says it has operated beyond reproach for 40 years and never been accused or charged with criminal wrongdoing.
Tricks of the trade: How assets are hidden and taxes evaded.
Panama Papers: Full coverage; follow reaction on Twitter using #PanamaPapers; in the BBC News app, follow the tag "Panama Papers".