Okafor Ofiebor/Port Harcourt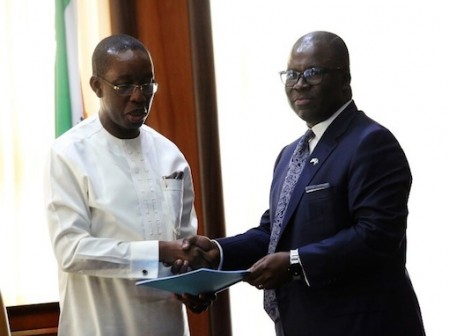 Delta State Government has taken a quantum leap to boost power generation in the state when it signed a Memorandum of Understanding (MoU) with Alpha Energy and Electric Inc., an American company, for the generation of 500 Megawatts (MWA) of electricity through public-private partnership on April 7.
Speaking during the signing ceremony in Asaba, Governor Ifeanyi Okowa said that the development of the Independent Power Plants (IPP) would help boost the energy capacity of the state to meet the power needs of investors and businesses in the state, disclosing that power was a prerequisite for investments and industries to thrive in the country.
The MoU was signed on behalf of the state government by the Secretary to State Government Mr. Ovie Agas witnessed by Governor Okowa along with other members of the State Executive Council.
"This MoU we are signing today is for the development, design, financing, construction and maintenance of multiple power production plants in multiple locations in the state, as a state we are ready to give the necessary assistance and co-operation to enable your company succeed because the power generated in the country is very low and we need to boost it to meet the power needs of our industries and attract investors to the state so as to impact on our economy and create employment," he said.
"President Buhari has promised to improve energy generation in the country to 10,000 MWA by 2018, so this partnership will enable us contribute our quota to achieve the President's energy goal while investors will get high yield for their investment", the governor added.
Senator Okowa disclosed that the state government would partner with credible investors to develop the economy, create employment for the youths and improve the state's infrastructure stressing that " the state has vast untapped deposit of natural gas, land and friendly environment which investors can put into use."
He assured the company of government's support and the necessary investment friendly environment to enable the IPP project succeed and charged them to commence work as soon as possible.
Earlier, the Chief Executive Officer (CEO) OF Alpha Energy and Electric Inc., Mr. Ike Nwabuonwu, explained that the company was in the state to develop and maintain multiple power production plants in multiple locations in the state to generate 500MWA of electricity disclosing that they were keying into the Obama Power Initiative For Africa to contribute their quota to the improvement of power in the country using various energy sources.
"The MoU is to design, develop, finance, construct, operate and maintain multiple power production plants in multiple locations in Delta state of Nigeria. It is estimated to be up to 500 megawatts. This 500 megawatts will be executed in phases; the first phase is estimated to be for up to 150 megawatts", he said.
Mr. Nwabuonwu assured Governor Okowa that the project would create employment opportunities for the teeming youths as well as boost the economy of the state.