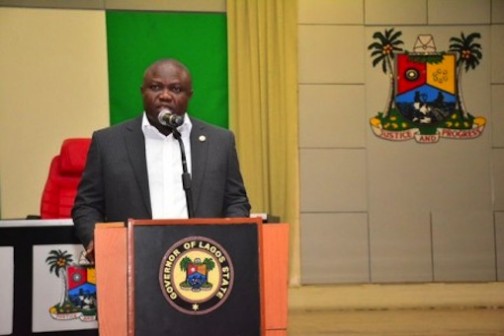 Governor Akinwunmi Ambode of Lagos on Thursday said that for Nigeria's economy to improve, its leaders must have the courage to take difficult and tough decisions.
Ambode who spoke at the 1st National Forum on Economy organised by Vintage Press Limited, publishers of The Nation Newspapers, said the nation's economy was at a critical threshold and thus, will require its leaders to think outside the box and come up with creative innovations that will trigger economic growth nationwide.
He lamented the fact that previous governments at the federal level failed to take advantage of the oil boom to grow other sectors of the economy, saying that the fall in price in the international oil market coupled with many years of corruption has made the economy vulnerable.
"It is very unfortunate that we wasted the golden opportunity to deploy the trillions of dollars earned from our oil exports to develop the critical sectors of the economy including power, agriculture, industries, solid minerals, transportation infrastructure among others. No doubt, if we had done the right thing as some other oil producing countries did, keeping in mind that crude oil is a finite resource, we would not be experiencing the devastating effect of oil price crash on the scale we are experiencing it now.
"We are now being forced to do, with pains, what we should have done with ease years ago. The task of charting a new direction for the economy is not going to be a tea party. Various policy options must be identified and assessed on the basis of our current situation and needs. Moving our economy forward requires thinking outside the box and doing things differently. We need creativity, innovation and the courage to take difficult and tough decisions.
"The leadership of the country at national and state levels must have the courage to take tough decisions and make sacrifices in the near term which will, in the long run, make our economy stronger and sustainable and, consequently result in prosperity across all regions of Nigeria," he said.
Recommending strategies to improve the economy, Governor Ambode said that the nation must begin to explore and expand the opportunities that abound in inter-State relations and strengthen regional competitiveness by maximizing economies of scale, regional optimization of assets and endowments and mitigation of afflictions and natural disasters.
He listed other viable areas for inter-State collaboration to include transport infrastructure to facilitate market linkages, education, market development, human capacity building, security and intelligence sharing, saying that it was high time to move away from an oil driven economy.
"Prior to the oil boom era, Agriculture was the mainstay of Nigeria's economy and contributed about 65 per cent to the country's GDP and represented close to 70 per cent of total exports. Through farming, Nigeria was able to feed its population while major cash crops were exported to earn foreign exchange.
"From the cocoa and rubber plantations in the West, the groundnut pyramids and cotton in the north, to palm oil in the east; each region was identified by its economic areas of comparative advantage which were collectively harnessed towards ensuring food security and inclusive growth across the country.
"Given our current economic challenge, I believe it is time we take a cue from our old 'playbook' for a viable 'game plan' to revive our national economy. States and regions must once again begin to leverage on their respective areas of comparative advantage by establishing partnerships towards establishing inter-State or inter-regional commodity value chain. We must re-start inter-state/regional cooperation," he said.
Governor Ambode said that Lagos has already taken the bull by the horn with its recent partnership with Kebbi State aimed at developing a commodity value chain that will see the local production of 70 per cent of Nigeria's rice needs with a multiplier effect that will ensure job creation, the development of ancillary industries as well as strengthen the Naira.
The Governor however added that for regional integration to thrive a functional modern rail and water transportation system must be in place, noting that movement of goods, materials and people by road was not only inefficient but fraught with risks, safety hazards and detrimental to the roads.
In his keynote address, Nigeria's Vice President, Professor Yemi Osinbajo said the Federal Government would soon commence work on the Lagos-Kano and Lagos-Calabar rail routes, as well as 31 major road projects across the country, just as he stressed the commitment of the current administration to give a quantum leap to infrastructural development.
The Vice President, however, commended the initiative of Lagos and Kebbi States in collaborating to ensure self sufficiency in rice production in the country, saying such collaboration between States will engender economic growth.
Earlier in his opening remarks, Chairman of Vintage Press Limited, publishers of The Nation Newspaper, Wale Edun said the forum was put together not just to lament the challenges facing the country but for government and members of the critical sectors of the economy to dialogues and chart a way out.
Load more