Cyriacus Izuekwe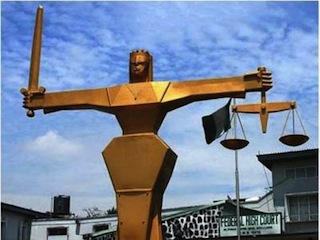 Police detectives at State Criminal Investigation Department, SCID, Panti, Yaba, have arrested a pastor and charged him before Ebutte Metta Magistrates' court for his alleged involvement in fake spiritual healing in Lagos State, western Nigeria.
Pastor Samson Onyeka allegedly obtained N1.2m from one of his church members, Mrs Temitope Akinbowale to procure her a bottle of anointed oil from abroad to cure her aged mother of an undisclosed ailment.
The incident happened at Ikola road in Ikola, Ipaja where the victim resides. The church is also located there.
P.M.NEWS gathered that the victim approached Onyeka to express her worries over her mother's sickness and her desire to have her healed.
Onyeka sympathized with her and promised that he would pray and ask God to heal her.
He also allegedly asked her to bring the money to buy holy oil from Israel which will heal her mother automatically.
After the victim allegedly paid the money, he gave him the so-called anointed oil and asked her to give it to her mother to drink until she was healed.
He promised her that the oil would heal her mother within a specific time because of its spiritual potency.
However, it turn out that the oil did not cure her mother any ailment as he claimed, rather the ailment became complicated and worse because they abandoned her drugs and relied only on the oil for healing.
When the period he gave them for the healing elapsed, there was no signs of recovering rather her condition deteriorated.
When the victim realized that she was defrauded, she went to Onyeka and demanded for her money back.
However, Onyeka refused and asked her to bring more money to procure another oil and promised her that the ailment will be healed at the end.
Following his refusal to refund the money, Akinbowale wrote a petition to the police who arrested Onyeka for interrogation.
During the investigation, the police discovered that the oil was fake and was even harmful to human health.
He was charged with obtaining and stealing under the Criminal code.
When he was arraigned, he pleaded not guilty.
The presiding Magistrate, Mrs M. O. Ope-Agbe granted him bail in the sum of N200,000 with two sureties in like sum.
He was remanded in prison custody at Ikoyi pending when he will perfect his bail condition.
The matter was adjourned till 4 May, 2016.