Cyriacus Izuekwe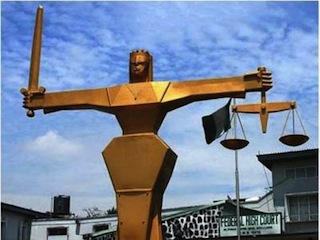 Two lovers have escaped landing in jail after they went to a hotel to have fun and were unable to foot the bills for the food and drinks they took and the lodging accommodation for the night they stayed in the hotel in Lagos State, western Nigeria.
They were arrested and charged before Ebutte Metta Magistrates' court with conduct likely to cause breach of public peace and refusing to pay their hotel bills.
The incident happened at a popular hotel located at Murtala Mohammed Way, Ebutte Metta.
The lovers, Usini Tolu, 27, and Gloria Banigo, 24, checked into the hotel whose accommodation costs N17,500 per night and promised to pay the money the following morning.
They were equally served some drinks and food before they went in for the night romp.
In the morning when the hotel's manager, Stephen Ezeaku, went to the lovers' room to request for the money as they had previously agreed, Tolu informed the manager that he had no money with him and as such he could not pay the bills.
Apart from that, the suspects allegedly threatened Ezeaku violently in an attempt to escape.
However, before they could escape, they were apprehended and handed over to the police who detained them at the station.
At the station, they allegedly confessed that they were lovers and had no money to pay for the accommodation in the hotel but decided to risk it.
They claimed that they were students and did not have money to pay for the one night hotel accommodation.
They were charged to court with the alleged offence under the Criminal Code.
When they were arraigned, they broke down in tears and pleaded with the complainant and court for forgiveness and spare them from going to prison.
Moved by their plea, the complainant told the court that he had forgiven them and would not want to continue with the matter.
The presiding Magistrate, Miss K. A. Ariyo subsequently struck out the matter on compassionate grounds and discharged them accordingly.