Okafor Ofiebor/Port Harcourt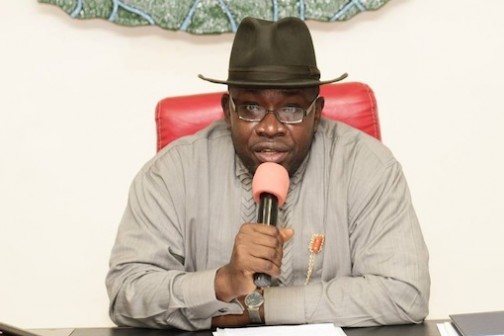 The Bayelsa State Government has faulted media reports that it received N12.85 billion from the Central Bank of Nigeria as bail out funds for the payment of salaries of civil servants, describing it as "lies from the pit of hell."
A statement issued by the Chief Press Secretary to the Governor, Mr. Daniel Iworiso-Markson, said the government had received only N1.285 billion from the CBN as salary bail out funds for its LGAs.
"We wish to make it very clear that the Bayelsa State Government has received only N1.285 billion from the CBN as salary bail out funds for its local government areas. As at July/August 2015, when application for these funds were made, the state government was not owing its workers, including pensioners any outstanding salaries and so could not have applied for any such bail out funds," the statement read.
"We are not unaware of the antics of certain persons to report bail out of N12.85 billion instead of N1.285 billion by the mere placement of the dot after 2 instead of after 1 in the figures above. Government had in its last monthly transparency briefing held on 24 March, 2016 and in the meetings held by the Governor with various labour leaders explained that it had received N1.285 billion on behalf of the local governments and that arising from the change of local government council officers and the staff verification exercise, the funds will not be released until those processes have been concluded.
"We will also like Bayelsans to note that the fund is a loan and the state government has commenced repayment even though we have not started utilisation. We request all media houses to report issues objectively after sufficient cross check of facts, especially when that information could create security challenges to the state.