Eromosele Ebhomele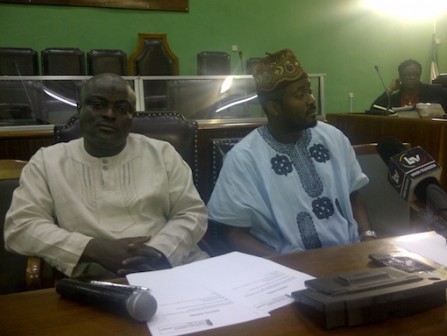 Popular Nollywood actor and member of the Lagos State House of Assembly, Desmond Elliot, on Monday told his colleagues at the Assembly that he lost his mother-in-law because there were no pedestrian bridges across an expressway in Lagos.
He did not mention the particular expressway or when the incident occurred, but said his mother-in-law was hit while she was trying to cross the expressway on her return from the Daleko market in the Mushin area of Lagos where she had gone to buy foodstuff.
Elliot was arguing in favour of a motion to call on the Federal Government to provide a pedestrian bridge at Toyota Bus Stop along Oshodi-Apapa Expressway.
The House also called on the Lagos state government to provide palliatives in the form of road signs and zebra crossings on strategic areas of the road and ensure compliance by motorists.
The motion was moved by Jude Idimogu, the representative of Oshodi Constituency 2 in the House on the platform of the Peoples Democratic Party, PDP.
Idimogu lamented that some road users had lost their lives while crossing from one side of the ever-busy road to another.
He added that it was imperative for the state and Federal Governments to do something urgently on the road.
His motion was supported by some of his colleagues including Sola Giwa who pointed out though, that it is not everytime that the government could provide pedestrian bridges, but that road signs could easily be provided to ensure safety of lives and properties.
In his contribution, Segun Olulade stressed that a lot of Lagos residents pass through the area and that pedestrian bridges should be provided in all necessary areas in the state to reduce accidents on the roads.
Speaker Mudashiru Obasa, who agreed that the bridge was important.
Obasa noted: "it would be impossible for the Lagos state government to provide the bridge, especially this year as it was not catered for in the budget. It is a Federal Government road, but the state government can provide palliatives.
"We must ensure that motorists are made to obey the road signs that would be provided on the road for the benefit of our people."