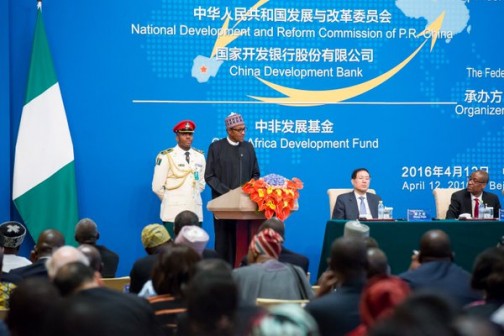 Industrial and Commercial Bank of China Ltd (ICBC) , the world's biggest lender, and Nigeria's central bank on Tuesday signed an agreement on yuan transactions, a Chinese Foreign Ministry official said.
"It means that the renminbi (yuan) is free to flow among different banks in Nigeria and the renminbi has been included in the foreign exchange reserves of Nigeria," Lin Songtian, director general of the foreign ministry's African affairs department, told reporters.
The agreement was reached following a meeting between Nigerian President Muhammadu Buhari and Chinese President Xi Jinping.
Nigeria's central bank has said it plans to diversify its foreign exchange reserves away from the dollar by switching a stockpile into yuan, underlining the momentum behind Beijing's drive to internationalise its currency.
Nigeria converted up to a tenth of its reserves into yuan five years ago. Now the government is considering issuing Panda bonds to help fund a record budget as Africa's biggest economy suffers a slump in global oil prices which has slashed revenues.
Songtian said a framework on currency swaps has been agreed with Nigeria making it easier to settle trade deals in yuan.
China has currency swap deals with countries ranging from Kazakhstan to Argentina and New Zealand.
Beijing is deepening ties with Abuja, as it is with countries across Africa. It signed agreements to develop infrastructure and to cooperate with Nigeria. ICBC also signed agreements on manufacturing with Dangote group.
REUTERS