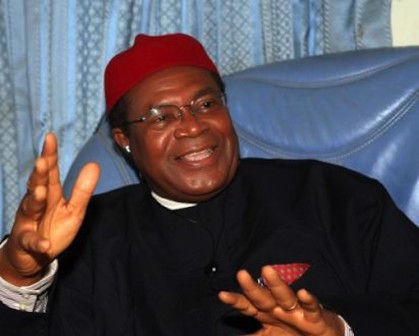 A former national chairman of the Peoples Democratic Party (PDP) Dr. Okwesilieze Nwodo has stated that he is yet to dump the party for the ruling All Progressives Congress (APC).
In a statement issued on Monday, he said his attention has been drawn to media insinuations that he has dumped the PDP and joined the ruling All Progressives Congress (APC) and wishes to state categorically that while developments in PDP is embarrassing and unexciting he is yet to dump the party.
Dr. Nwodo, a pioneer National Secretary of PDP and former governor of old Enugu state said that its improper for the media to stand merely on my wife being present at a meeting that I was not, to conclude that I have joined the APC disregarding the fact that my wife as an adult has her own political life.
"As one of the founding fathers of PDP who has held the highest office in the party, I know the statutory procedure of resigning and would willingly do that if necessary.
Dr Nwodo said although a number of issues within PDP remains embarrassing to the founding fathers, the truth is that "I'm still a member of the PDP and has not joined the APC.
The former Governor then urged his numerous supporters across the country particularly in Enugu state to disregard the purported story as his political direction would not be hidden if the need arises.