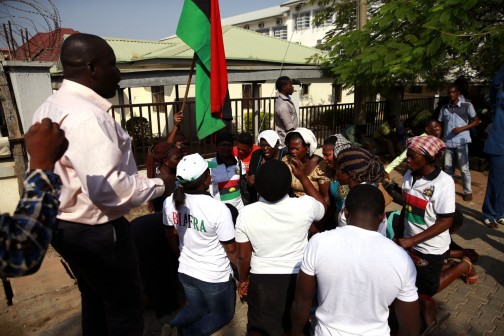 Some Nigerians resident in South Africa have staged a peaceful protest at the Nigeria High Commission calling for improved security in the country.
Acting under the aegis of "Save Our Democracy", an NGO, they appealed to the Federal Government to protect lives and property in the country.
The protesters sang solidarity songs and left the premises, though no official of the High Commission spoke to them.
Miss Odimegwu Oluchi, Coordinator of the group, said on phone from Pretoria, South Africa, that they would send their message to the government through the mission.
She said that cases of insecurity in some parts of the country called for urgent federal government intervention.
She said the NGO went to the mission to express concern about reported cases of attacks in some communities.
"We are worried about the killings and it is really traumatising to Nigerians living in South Africa. We want the High Commission to send our message to the Federal Government.
"We are trying our best to ensure that there is peace in our country. We urge the federal government to intervene and stop such attacks," she said.
The coordinator said families had been displaced and needed urgent assistance to re-settle.
Oluchi also urged the federal government to create jobs to keep unemployed youths busy.
"When our youths have jobs, they will be busy and not many will think of leaving the country.''
However, a member of the NGO, Mr Trust Owoyele, commended the federal government for directing security agencies to secure all communities under attack.
"This is a welcome development and it will give the people a sense of belonging.
"Government should create an enabling environment to attract investment into the country," he said.