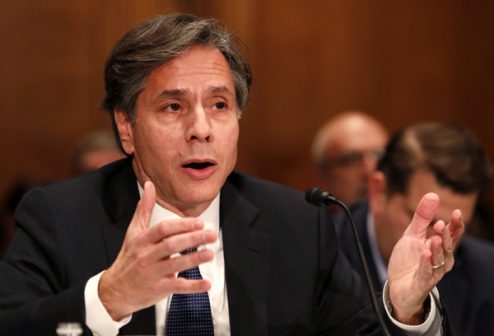 Nigeria and the United States have expressed determination to jointly develop a comprehensive approach to ending Boko Haram insurgency in the Lake Chad Basin.
The U.S. Deputy Secretary of State, Antony Blinken, made this known during his visit to the Minister of Foreign Affairs, Mr Geoffrey Onyeama, in Abuja on Friday.
"What we are working on together is truly a comprehensive approach to the challenge posed by Boko Haram.
"The military component is critical; it is necessary, but it is not sufficient.
"A comprehensive approach has to include taking care of people in their home communities with good governance, with access to actual resources and to jobs so that they are not susceptible to being pulled in to extremism out of desperation.
"It has to include support particularly for displaced persons as well as refugees so that they too can have some basic livelihood and basis support.
"It has to include obviously a respect for human rights and it is very challenging when you are fighting an enemy as vicious as Boko Haram, to maintain your own focus on human rights, but it is absolutely very necessary because if you do not, then it will be very hard to succeed in your efforts because you risk alienating the very people that you are trying to protect and save.
"Across all of these dimensions as well as stabilising communities that have been liberated from Boko Haram so that people can go home on voluntary basis.
"There is a tremendous amount of work to be done but we appreciate the comprehensive approach Nigeria is taking to the problem."
On his part, Onyeama said the second Abuja Security Summit scheduled for Saturday, May 14, would develop a comprehensive approach to address the challenges to insecurity in member countries of the Lake Chad Basin.
"This summit is really a moment and opportunity to take stock of what has been going on since the first regional summit which took place in Paris in France in 2014 and we are seeking to mainly focus on three areas; what we want to look at the military aspect, we have done militarily since then (2014), what we plan to do going forward, intelligence sharing within that framework.
"The way we are approaching this is that we are going to lay out our roadmap going forward, a holistic roadmap in which we are going to address those three areas; the IDPs, refugees, the military intelligence aspect and rebuilding, reconstruction, rehabilitation.
"The onus is really on us, we want to have the coordination mechanism more transparent and a bit more centralised so that our partners will have a sense of who is really coordinating all the assistance, all the objectives.
"We will make that as clear as possible and it is now for our partners to decide where they can come in."
The second Abuja Security Summit is a follow up to the Paris Summit held on May 17 which focused on security in Nigeria.
The second summit is expected to take stock of the achievements by Benin, Chad, Cameroon, Niger and Nigeria with the support of the U.S., France and the United Kingdom in the fight against Boko Haram and come up with a plan for the post conflict phase.