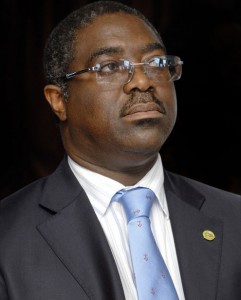 In continuation of its efforts to arrest the growing incidence of non-remittance of Value Added Tax (VAT), the Federal Inland Revenue Service (FIRS) has sealed companies in Lagos, Abuja, Owerri and Kaduna.
Two of the affected companies belong to controversial investor, Mr. Jimoh Ibrahim.
In Lagos, the FIRS sealed the premises of Swift Networks, an internet provider, and Pan Ocean Oil Corporation Nigeria Limited, for failing to remit huge amounts in Value Added Tax ( VAT).
Swift Networks, which has its office on 31, Saka Tinubu Street, Victoria Island, Lagos, failed to remit N702 million to the government. It's office was sealed by FIRS officials led by the Director of Enforcement, Emeka, Obiagwu .
Chief Operating Officer of Swift Networks, Chuma Okoye, pleaded that the company should not be shut down, but Obiagwu told him that his company should have complied with the laws governing business making in the country. Obiagwu added that FIRS has huge obligations to fulfill.
"Several notices have been served on the companies and I believe several moves were also made to compel the companies to remit their taxes. But most of these companies turn deaf ears; that is why we usually give them long rope," he disclosed.
Okoye explained that his organization has started working on how to fulfil its obligations to government.
At the office of Pan Ocean Oil Corporation, the enforcement recorded some drama, with the company's security men attempting to prevent FIRS officials from carrying out their duty. It took the intervention of some members of the company to restrain the security men for the enforcement to take place.
Efforts to get FIRS officials to give another period of grace were futile. The management of the firm was told to send representatives to the FIRS office to discuss how to remit the $29.2m owed in VAT.
At Century Energy Services Limited, members of staff were told to vacate their offices and the building was sealed up.
In Kaduna, FIRS also sealed off two erring companies. The office of System Properties Development Company limited (SPDC) located at Shehu Crescent in Kaduna North Local Government Area was sealed. The company has failed to remit over N20 million. The same fate befell Mutunci Company Nigeria Limited located at Plot 5 Kudenda Industrial Layout Kaduna. The company failed to remit over N42 million.
The owner of the company, an Indian whose name was given as Mr Vora, insisted that he was up to date in the payment of all his taxes and went ahead to show his 2016 VAT clearance certificate due to expire in December.
His explanation, however, was deemed unsatisfactory, as he was told by the enforcement team that there are discrepancies between the expected payment and the actual payment of over N42 million.
Speaking on the exercise, the enforcement team leader, Suleiman Abubakar, said the exercise was to get defaulting companies to remit VAT.
"Today, we have invoked our statutory provisions and sealed off System Properties Development Company limited (SPDC) and Mutunci Nigeria limited who have an outstanding tax liabilities which runs into millions.
"The companies will remain under lock and key unless and until the affected companies clear and liquidate their liabilities" he said.
He disclosed that the tax enforcement exercise was going on across the federation.
Companies were similarly sealed in Owerri.