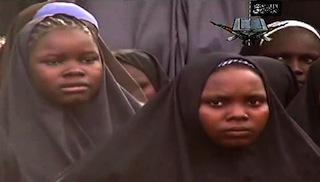 Nigeria's army on Wednesday confirmed that a girl rescued in a Boko Haram enclave in the northeast is one of 219 abducted from their school in Chibok more than two years ago.
"This is to confirm that one of the abducted Chibok schoolgirls… was among rescued persons by our troops," army spokesman Colonel Sani Usman said in a statement.
Usman gave the girl's name as Falmata Mbalala and said she was found in Baale, near the town of Damboa, which is 90 kilometres (56 miles) southwest of the Borno state capital, Maiduguri.
Activists and community leaders said she was found on Tuesday night and brought to meet her mother in the town of Mbalala, near Chibok, before being taken to a military base in Damboa.
Manaseh Allan, a Chibok youth leader, told AFP: "The girl was found by local vigilantes in Kilakesa village on the edge of Sambisa Forest near Damboa.
"She was brought first to Chibok by the vigilantes who took her to the vice-principal of her school, who immediately identified her as Aisha Ali, which is her name in the school register.
"She was presented to community leaders as Amina Ali but her name as it appears in the school register is Aisha Ali.
"It is common for children in Chibok to be called with one name in school and another at home.