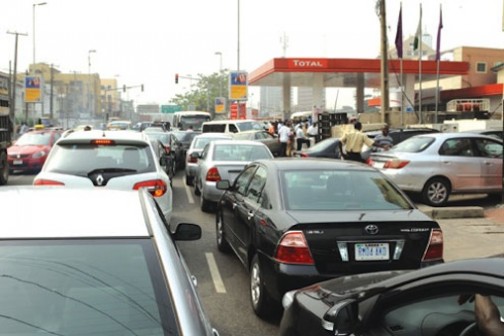 When the list of the most important persons in Nigeria is compiled for the first half of the year, I want to believe that "fuel attendants" across the country will be top of the list. For those residing in Nigeria, its pretty easy to figure out why, but for those abroad let me give you a sneak preview.
Shortly before the lingering fuel crisis began, I drove into a petrol station to buy some fuel in my car and my kegs. The fuel attendant who served me was hoping that I will part with at least N100 after his service.
Just to be sure that the tip will come, he said, "Oga, no forget your boy o, abeg find me something", I obliged him and gave him the N200 change.
This became a routine since I used the same fuel station but when the petrol scarcity began, the tables turned.
The attendant who appeared to be soft-spoken and gentle became very loud and suddenly muscular. Of course, he accorded me no respect of any kind and did not even recognize me owing to his new found status.
He had the powers now and as the roles have become reversed I had to call him 'Oga' if I was going to get an audience with him. A tip of N100 or N200 was longer in question because his stakes had risen and even N500 was going to be the least he will accept and that would be with a lot of plea.
Suddenly, fuel attendants had no regard for their customers as there were too many of them on the queue, some waiting as early as 5:00am for fuel.
I remember an incident in April, when a fuel attendant, of not more than 25 spoke very rudely to a man in his 70s, only because the elderly man was begging her to sell him some fuel in a jerry can.
After having such dramas at the filling station, I reckoned that it would be wise to be friends with the most important people in Nigeria, "the fuel attendants".
By friends, I meant I needed to be nice enough to have their phone numbers and also get tip offs when their fuel has arrived. Of course, I will have to part with some money from time to time if I want our friendship to last.
While drawing up a plan, I looked at the attendants at many filling stations and I thought to myself, "Its funny how tables turn in Nigeria and how quickly people who were barely reckoned with can become kings".
I was plotting to meeting the president, governors, lawmakers, CEOs, etc. but fuel attendants. I came to an abrupt conclusion that our country Nigeria is at its low, very soon fuel attendants will have an association if they don't have one and decide on when to strike and when to work.
Their union might perhaps be the new face in the petroleum industry that can do even more hurt than the ailing Nigerian Labour Congress and Trade Union Congress.
Somehow, I want to believe Nigerians across the country are cozying up to fuel attendants if they want to have access to petrol.
I know how exasperated I get when I stay on the queue for long hours only for some lad to drive through the other gate of the station and get his tank and kegs filled up in no time. If you say that is VIP treatment then you might be right.
For me, this sums up the hardship Nigerians are going through and the new forced relationship we have to consider.