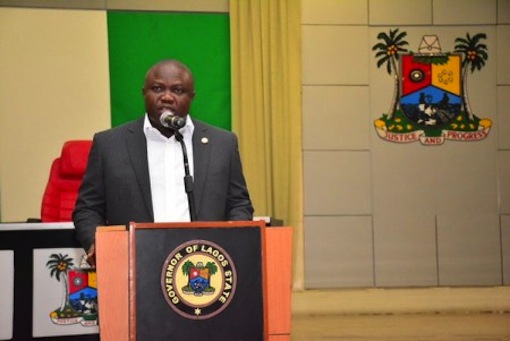 Some residents of Badagry in Lagos State on Thursday lamented over the abandonment of the Lagos/Badagry expressway project by the Lagos State Government.
On March 31, Gov. Akinwunmi Ambode ordered that immediate rehabilitation work should be carried out on the road by the state government.
However, reports have it that repair works on the expressway started a few days after the governor's directive, but has been abandoned, with the road now riddled with potholes.
Some residents who spoke to the NAN correspondent in Badagry lamented the deplorable state of the road.
Mr Yinka Anifowoshe, a businessman, said that the deplorable state of the road had damaged many of the commercial vehicles that ply the road.
"Words cannot explain the size and depth of the various potholes on this road and they are very bad for road users.
"The repairs started soon after the governor gave the directive and everyone was happy about it, but as time went on, the repairs stopped and we are back to the same state of the road,'' he said.
Another resident, Mr Tope Segla, a banker, noted that the repairs should have been completed before the commencement of the rainy
season.
"With the abandonment of the repair work and with the impending rainy season, the road is going to become worse than it used to be.
"Each passing day, one or two cars always break down on the road because of the potholes and things can only get worse when the rainy season sets in.
"The government should quickly do something about this, so as to reduce the sufferings of motorists and commuters,'' he said.
Mrs Helen Sarah, a student, said that the deplorable state of the road had also increased criminal activities on the route.
"Criminals have taken advantage of the bad road and started robbing innocent commuters of their valuables on the route.
"The government should quickly do something about this situation,'' she added.
In his response, the Special Adviser/Chief Executive Officer, Lagos State Public Works Corporation (LSPWC), Mr Ayotunde Sodeinde, told said the corporation was still on site, but now worked in accordance with weather conditions.
"Surely, we have not moved out of site, but we do not work when there is rain. We watch the weather to produce asphalt, before we are able to continue with our work on site.
"We have expended so much on the repairs and we are committed to completing the sectional damages on the highway.
"We are using a different kind of machine to work on the road, laying asphalt all the way to Badagry and when we complete it, we will begin patching of all the potholes along Barracks Bus stop and the entire corridor.
"We are doing heavy rehabilitation," he said.
Sodeinde explained that the different kinds of equipment needed for repairs were being brought in one after the other, as required.