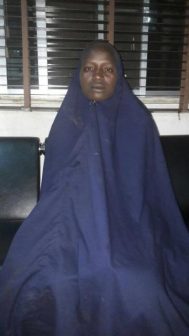 Following the rescue of two of the abducted 219 Chibok schoolgirls by Nigerian soldiers in the last six days, the All Progressives Congress (APC), has urged parents of the remaining 217 abducted girls to keep hope alive.
The party assured them that more abducted schoolgirls would soon be rescued.
This is contained in a statement issued in Abuja by the spokesperson of the APC in the South-East, Mr Osita Okechukwu.
He lauded the joint effort that saw to the rescue of Amina Ali, her child and Serah Luka.
It would be recalled that Amina and Serah were rescued from the Sambisa forest by the Nigeria Army after almost two years in captivity with 219 other schoolgirls.
"We laud the efforts of the Bring Back Our Girls (BBOG), the Nigeria Armed Forces, the JTF and the President for their fortitude, resilience and perseverance.
"Our message to the parents of the remaining school girls is that they should bear in mind that with God nothing is impossible.
"Their hope should not wane, as we have every hope that more girls will be rescued.''
The statement said the news of the rescued girls by the military had restored faded hope and expressed optimism that it signalled the beginning of the return of more of the girls.