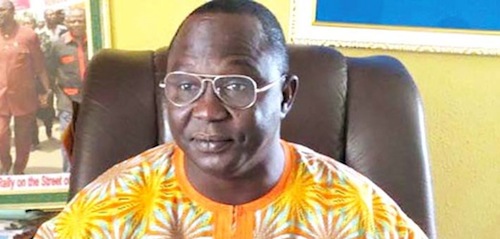 Mr Ikechukwu Nwafor, the Chairman of the Ebonyi chapter of the Nigerian Labour Congress (NLC) has been hospitalised after being beaten by the police.
Nwafor was beaten by personnel of the Police Command in the state when they foiled a protest on Thursday by labour leaders against the increase in the price of Premium Motor Spirit (PMS).
The fuel price was increased from N86.50 to N145.
Investigation at the Federal Teaching Hospital, Abakaliki, where Nwafor was admitted, revealed that he was admitted at the Emergency Ward.
The labour leader condemned the police action, saying: "the police treated them like a `common criminal'.
"The policemen, led by senior officers, beat me to the ground, made me roll severally before bundling me into their van after some merciless beating.
"They pelted the venue with bouts of teargas canisters, molested our female colleagues and detained us after the attacks."
He alleged that those who took the footage of the attack had their phones seized and accused the police of "acting a script that will soon be unravelled.''
"The police claimed we did not inform them of the intended protest but we did so in writing. This is in the possession of the Commissioner of Police.
"We have informed our national leadership of the incident, who promised to handle the matter appropriately," he said.
Reacting to the incident, Mrs Peace Ibekwe-Abdallah, the Commissioner of Police in Ebonyi, urged Nwafor to be truthful to himself on the alleged attack, considering his position and age.
"The NLC people were dispersed in the most minimal way; I deployed the Officer in Charge of Operations and the Commander in charge of the Mobile Force to the venue of the gathering.
"These are highly distinguished officers. I believe their reports. It is not a case of deploying patrol teams to fire into the air while dispersing the labour people."
"He, Nwafor was rolling on the ground, showing that he was injured but I bluntly told him and his men that every Nigerian feel the pinch of the situation in the country.
"The command can no longer tolerate the situation where people go to public places and decide to deny other people their fundamental rights," she said.
She acknowledged receiving a letter from the NLC on the protest on Thursday but said that it was unlawful because the letter did not reach the command on time to enable it to respond.
"We only have a letter submitted by the NLC on its intention to mark the industrial action on 'a sit-at-home' basis.
"We were surprised to see them gathering to embark on street protest," she said.
Efforts to speak with the Chief Medical Director of the hospital proved abortive as he could not be reached for comments while other doctors decline comment.