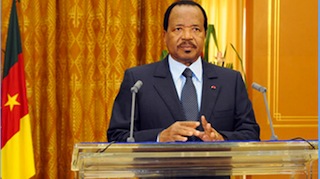 About 2,000 Cameroonians in Lagos, Abuja and Calabar, at the weekend came all-out to celebrate their country's 44th National Day with their Nigerian friends.
The Consul-General of Cameroon in Lagos, Dr Paul Ekorong a Dong , disclosed this on the sidelines of the celebration of the Day at his residence in Lagos.
"In celebration of our National Day this year, about
2,000 Cameroons living in Nigeria came together in Lagos, Abuja and
Calabar, to celebrate with their Nigerian friends.
"As you can see here in Lagos, about 800 Cameroonians came together
for the celebration, while about 300 Cameroonians also celebrated in
Abuja. Many others also celebrated our National Day in Calabar.
"These Cameroonians are very happy to be part of their country's
National Day celebration from Nigeria.
"What this means is that there is existing good relations between
our two governments, as well as our people,'' he said.
Ekorong a Dong said that this year's celebration was tagged,'' Defence Forces and the dynamic forces of the Nations standing together to
combat terrorism, preserve peace and territorial integrity''.
According to him, the celebration is coming at a time when Cameroon's
joint military collaboration with Nigeria, Chad, Niger and the Republic of Benin is winning the war against Boko Haram terrorists.
The consul-general also said that celebration took place at a time
when the Cameroonian government was happy with its growing bilateral
relations with Nigeria.
He said that the Cameroonian President, Mr Paul Biya, had on the invitation of President Muhammadu Buhari, visited Nigeria twice within
one week, to hold bilateral talks.
Ekorong a Dong said that both countries had bilateral discussions on trade, cooperation, conservation of the Benue River, security, agriculture, infrastructure and issues of immigration.
"This is definitely our two countries' demonstration of good
times, peaceful and cordial relationships, with much more to come in the near future.
"We are determined to expand on the economic relationship, to help our
people get more jobs and contribute to our national development,'' he
said.
The Envoy said that more Cameroonians were interested in coming to
live and do business in Nigeria, especially now that the military was
winning the war against Boko Haram.
He, however, noted that Cameroonians were currently facing the
challenges of not being able to get more of their products into the
Nigerian markets.
Ekorong a Dong, therefore, urged the Nigerian government to look at the
challenges, as well as their difficulties in obtaining resident
permits.