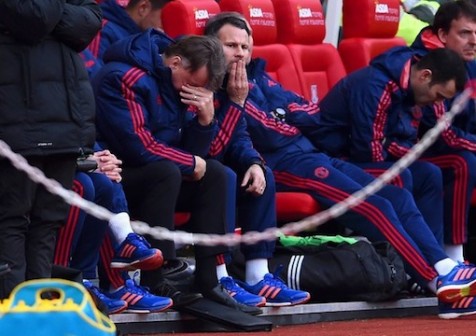 Manchester United legend, Ryan Giggs is set to cut ties with the club after Dutchman, Louis van Gaal was sacked by the club management on Monday.
Van Gaal led United to the FA Cup on Saturday but it wasn't enough to save him after he failed to qualify for the Champions League and received criticism throughout the season for his conservative tactics.
This has led Giggs to consider ending his 28-year association with Manchester United on Monday night after being overlooked for the manager's job in the wake of the sacking of Louis van Gaal, who expressed acute disappointment at his dismissal, writes James Ducker.
Jose Mourinho will be appointed as Van Gaal's successor on a three-year deal worth about £36 million – possibly as early as Tuesday – but Giggs was agonising over whether to accept a role on the former Chelsea manager's coaching staff as he came to terms with the disappointment of being denied his dream job for a second time.
Van Gaal, who earned a £400,000 bonus for winning the FA Cup on Saturday, has been given a £5 million pay-off by United. Ed Woodward, United's executive vice-chairman, went to see the Dutchman at his home in the affluent Cheshire suburb of Bowdon on Sunday night to deliver the news so Van Gaal was fully briefed by the time he arrived at the club's Carrington training ground shortly before 8.45am on Monday.
Attention now turns to whether Giggs will also leave the club – with the intention of cutting his managerial teeth elsewhere – or opts instead to serve as an assistant to a third United manager in Mourinho following two testing experiences under David Moyes and Van Gaal. With Mourinho expected to bring trusted lieutenants Rui Faria and Silvino Louro with him in addition to another assistant, Giggs runs the risk of having little more than a ceremonial role under the Portuguese.
The prospect of Giggs leaving the club he joined on his 14th birthday, going on to become its record appearance maker and the most decorated footballer in British history, would signal another significant severing of ties from the Sir Alex Ferguson regime. The squad Ferguson left behind when he retired three years ago has undergone a dramatic overhaul and there is expected to be more upheaval this summer as Mourinho plots a £200 million spending spree.
Giggs had previously indicated in private that he would walk away if he was not offered the manager's job and sources close to the 42-year-old admitted on Monday that he was in the midst of a serious dilemma but unsure of which way he would swing when push comes to shove.
Giggs visited George's restaurant and bar in Worsley, which he owns, close to his home on Monday as he pondered his next move. He is thought to be bitterly disappointed not to be given the opportunity to succeed Van Gaal, despite the speculation for months that Mourinho would succeed the Dutchman, but also recognises that if he chooses to leave the club and struggles as a manager elsewhere that it could damage or kill his prospects of one day taking charge at Old Trafford.
Giggs saw Gary Neville, his close friend and former United team-mate, try his hand at management at Valencia recently and fail, and has also observed the current struggles of Patrick Vieira at New York City FC, sister club of Manchester City. Giggs has been encouraged to try his hand at management at another club first by Peter Schmeichel.
"I think it's very important that Mourinho has an assistant who knows club and knows what is expected and understands the culture," the former United goalkeeper said. "It could be Giggs but on the other hand I think a lot of people would like to see him become the manager one day and I think for that to happen it would be so good for him to have had a job somewhere else, where he has to stand on his own two feet, learn the trade and if he is successful he can come back and manage United."
Mourinho – who was photographed outside his west London home on Monday in the company of Faria – hopes to have his appointment finalised on Tuesday, although there is a chance the situation could drag into Wednesday. Jorge Mendes, his agent, was flying back from China on Monday. United said in a statement of their own on Monday night that "a decision on a successor as manager will be announced soon," and praised Van Gaal for leaving the club "with a legacy of having given several young players the confidence to show their ability on the highest stage."
Van Gaal said his goodbyes to staff at Carrington on Monday while employment lawyer Paul Gilroy QC, who had initially been denied entry to the training ground, finalised his severance package. Van Gaal's assistants Albert Stuivenberg and Frans Hoek as well as performance analyst Max Reckers have also left the club. There was no confirmation from the club on Monday night over whether assistant coach Marcel Bout and training physiologist Jos van Dijk had also gone, although both are expected to leave.

Load more