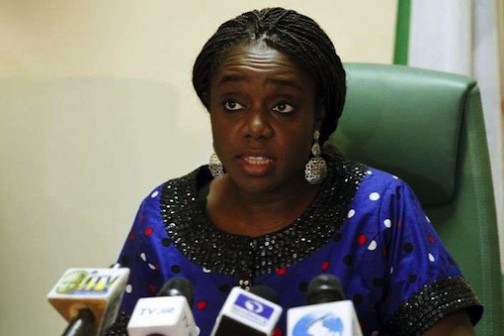 The Minister of Finance, Mrs Kemi Adeosun, has disclosed in Abuja that N1.5 billion, being excess bank charges, was recovered and paid into the Federation Account.
Adeosun announced this while addressing newsmen on the outcome of the Federation Accounts Allocation Committee (FAAC) meeting.
She said this was done by a consortium of consultants for the Federation Account and that the money was proposed for distribution.
She also said that N281.5 billion was shared among the federal, states and local governments as revenue for April 2016.
"The distributable statutory revenue for the month is N213.8 billion.
The sum of N6.3 billion was refunded to the federation account by Nigerian National Petroleum Corporation (NNPC)
"Also, there was the exchange gain of N2.4 billion which was proposed for distribution.
"Therefore the total revenue distributable for April, including VAT of N65.2 billion, is N281.5billion,'' she said.
Giving the breakdown of revenue among the three tiers of government, Adeosun said the Federal Government received N101.2billion, representing 52.68 percent while states got N51.3billion, representing 26.72 percent.
The local governments, she said, received N39.5 billion, amounting to 20.60 percent of the amount distributed.
She said N15.7 billion, representing 13 percent derivation revenue was shared among the oil producing states.
Adeosun also said that during the month under review, the country generated N122.3 billion as mineral revenue and N91.5 billion as non-mineral revenue in March, showing an increase of N12.2 billion.
The minister also said that the Excess Crude Account maintained a balance of 2.26 billion dollars.
She explained that the main cause of the decline in revenue was the fall in oil price.
"The main cause of that decline was in gross statutory revenue especially in oil proceeds.
"That was because the monies that have just been shared and the sales that were undertaken when the oil price declined was as low as 28 dollars a barrel before the oil price recovered.