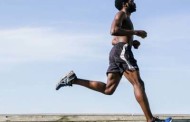 Mr Fadesola Adedayo, 25, a Nigeria-born civil engineer based in Canada, who is on course to complete a 17-day Abuja to Lagos marathon, says he feels fulfilled already.
Adedayo, who is running to raise $1million toward Stevens-Johnson's Syndrome research, expressed his joy on his successful arrival on the 15th day in Ibadan en route Lagos.
A visibly spent Adedayo spoke upon his arrival at the Egbeda Toll Gate in Ibadan on Friday evening.
The race he began on May 13 in Abuja after the flag-off by Health Minister, Prof. Isaac Adewole, is scheduled to conclude in Lagos on Sunday at a rousing reception.
Adedayo said he embarked on the fund-raising marathon in honour of his late elder brother, Adeyosola, who had died from complications arising from the Stevens-Johnson's Syndrome.
Late Adeyosola, a University of Birmingham-trained medical doctor, died on March 20, 2012.
Adeyosola had contracted the disease after an allergic reaction to a precautionary medication he took while heading a team of foreign-based doctors caring for HIV patients in Lagos at the time.
"As the finish line draws closer, I feel very good, especially with the fact that I will be the first person to accomplish a task nobody had done before.
"To do a standard 42-km marathon continuously for 17 days non-stop is no mean feat considering all the elements and challenges one has to battle along the way.
"I can't wait to see everyone waiting for me at the finish line especially my family and friends who have been very supportive.
"I also made a lot of friends along the way from Abuja and miss my mum most especially; I'm looking forward to seeing her again in Lagos," Adedayo said.
Reacting to how he was able to surmount the challenges of the harsh terrain during the course of the race, Adedayo gave credence to the support he received from the people he met.
"The Nigerian people have been very supportive. It's amazing the reaction I got from them along the way.
"Most who connected with my purpose even went as far as spraying money on me as I was jogging on.
"Villagers were cheering me on, traders gave me their wares for free and some even went as far as praying for me to be successful.
"All of these experiences have made the journey worthwhile and it is one I will never forget," he said.
The runner further revealed that what made the task so daunting was the little or no time for recuperation having suffered a lot of cramps along the way.
"Abuja to Lagos is a minimum of 748 kilometres at a stretch and to complete that involves a lot of endurance and psychological strength.
"The running shoes I started with is completely worn from the race and even the spare ones have begun to feel really uncomfortable.
"I was always massaging my thighs and calves at rest points and even got to a point where I had to administer bandages on my ankles to relieve the pains.
"This race has already done for me most of what I expected from it which was to raise awareness on the Stevens-Johnson Syndrome.
"I have met people stopping me to explain what the condition is all about to them and even some guys attested to seeing me on television during the flag-off.
"I did this for love, I did this for my brother, for Nigerians and for everyone who has had to battle with the Stevens-Johnson trauma around the world," Adedayo said.
The University of Western Ontario graduate said that the funds raised would be utilised efficiently, adding that his team had already put mechanisms in place to ensure transparency and accountability.
He said the response had been very positive, noting that N1.5million had already been raised in the target of N310 million ($1million).
Due to his drive, Adedayo had attracted foreign sponsors like the BIA Live Well Programe, MSF-Doctors Without Borders and a notable Canadian politician, David Miller.
He urged the Federal Government and individual donors to help achieve the $1 million target as well as other medical scientists willing to come on board his foundation: Ade Skin Foundation.
To curb the Stevens-Johnson Syndrome and other allergic reactions to drugs, Adedayo urged pharmaceutical companies to invest more in research.
"The syndrome develops as an allergic reaction to medication only, this means there is still a lot of research that needs to be done on drug reactions and allergic conditions.
"When someone is allergic to a drug that develops into the Stevens-Johnson Syndrome, it's an indictment on the drug manufacturer and the pharmaceutical industry as a whole.
"The value of life should exceed the desire for wealth, so it's important that drug companies invest more on research to ensure safety for all," Adedayo said.
He said his foundation would also be looking at developing a database to give more accurate figures on the prevalence rate of the disease, especially in Africa.
"Already the disease has no cure and has a fatality rate of 40 percent in the West which means four out of 10 persons are at risk over there.
"In Nigeria, nobody can ascertain the risk levels, so you can see why there is a need for more research which is why we must all support this,'' he said.
Adedayo urged youths to make meaningful impact with their lives by positively channelling their energy and creativity in the right direction.
"Everyone is endowed with something unique, they really have no excuse for not achieving something meaningful with their lives.
"To rely on government for everything is not the way forward. We must look inwards and see what we can do for ourselves and our communities, " Adedayo said.
Stevens-Johnson Syndrome is a rare and serious disorder of the skin and mucus membranes, usually in reaction to a medication or infection.
It is most often seen in people with reduced immunity and where it is not fatal, recovery can take weeks or months.