Organizers of the Miss Nollywood Beauty Pageant have announced the dethronement of one of their queen, Grace Okoro Adaeze.
Grace Okoro Adaeze, who was Miss Nollywood Culture and Tourism 2016, has been dethroned over arrogant behaviour and her nonchalant attitude which she reportedly displayed towards her organisation.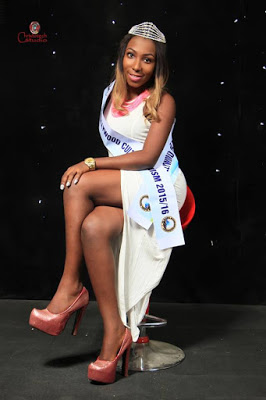 Adaeze was stripped of her title few months after she was crowned and the new development is expected to take immediate effect.
The Organisation announced this new development in a press statement, which was made public on its official Facebook page.
The Statement reads:
"This is to Notify the Public (social Media, Press, Prints) and all news platforms that One of our Queens, Queen Grace Okoro Adaeze (Miss Nollywood Culture and Tourism) has been dethroned and is no longer a queen of Nollywood.
"For going against the policies and rules of Miss Nollywood Organisation:
"1. Miss Grace impose herself a manager, one Robyn Gawa, who is an impostor, a fake Manager Not recognised by the Organisation, who carries himself as a worker of MNF, we are clarifying that Robyn Gawa is neither a worker nor among the MNF organising team..
"No Queen in any part of the world has the right to name herself a manager, without the approval of the Organisation, It's an insult.
"2. As a Queen of Nollywood whatever that happens to her is on the Organisation, But Grace appears in Programs (travels all around) without the consent of the organisation, even when she was told to return she replied MNF in quote 'No one can stop me'.
"The organisation has been very lenient with Miss Grace and she was warned severally..
"3. Grace was recently in Bayelsa, where the organiser EBarakumo Odede is based, but she cared less about informing him, She Lodged in a Hotel with her fake Manager and stayed for over a week, The Organisation knows nothing of what they did, If not for the good relationship the MNF have with Hotels, which led to reliable sources contacting us if we are aware of Grace's whereabouts?
"4. During her stay, Grace was even asked if she had told her Boss of her travel.. she confirmed that 'I don't really think it's he's business'..
"5. Out of the great love the organisation has for her, and due to how she was picked, built up and changed to become a better person, we endured and warned her of her Behaviour more than we can count.. Grace is now too big for the Organisation, she's rude, we cannot contain her arrogancy and pride anymore..
"Therefore Miss Grace Okoro Adaeze has been brought down in compliance with the policies of Miss Nollywood Beauty Pageant and has been Dethroned..
"Queen Grace's dethronement takes immediate effect and shes expected to return all the belongings of Miss Nollywood within 6 days, and never to appear as a queen of Nollywood anywhere Again..
"And the 'HOPE SUPPORT INITIATIVE FOUNDATION' that was founded by the Organisation under BK GLOBAL ENTERTAINMENT for Miss Grace Okoro to Support the Less Privileged has been withdrawn from her..
"Should Grace be found flaunting herself as a Queen of Nollywood after this letter, will be as impersonation..
"And anyone who sees her appearing or claiming to be a queen of Nollywood should consider her a fraud and call the Police immediately..
"We Love our Queens, all we do is to promote our Queens, the Organisation has never had any bad intention against its queens.. And has never forced Miss Grace of Any of our Queens to go or do anything against their will."
Signed Miss
Nollywood Organising team.