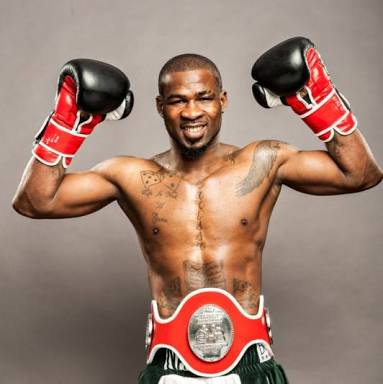 Nigeria's African Boxing Union Champion, Larry Ekundayo, will not be available this weekend for his title defence against Tanzanian, Saidi Mundi.
Ekundayo suffered a hand injury during training and his handlers said he was left with no other choice than to pull  out of his scheduled title defence fight, Nick Abbott of the World Class Athletes Limited revealed in a statement..
Undefeated Ekundayo, who won the belt in October 2015, was scheduled to defend it against the Tanzanian boxing star Saidi Mundi this Saturday 4th June in London.
Ekundayo said : "I am bitterly disappointed not to be fighting at the weekend after all the training I've done. I was looking forward to bringing sporting success to Nigeria and continue to climb up the world rankings, but my team decided that I couldn't take the risk to fight with such an injury."
Larry's manager, Ben Gray said, "Larry is a great boxer, but even he can't fight a man with only one hand! Larry carry's the hopes of a nation on his back and it would not be right to send him into battle without giving him the best opportunity of victory".
Ekundayo will be out of action for 6-8 weeks whilst his hand heals, once this is done the bout will be rescheduled for later in the year.
Speaking further, the boxer's Special Advisor, Bimbo Folayan  says "this is a very big loss to Larry considering the amount of time and effort he has put in, but I know Nigerians will support their man and join me in cheering him on when he returns".