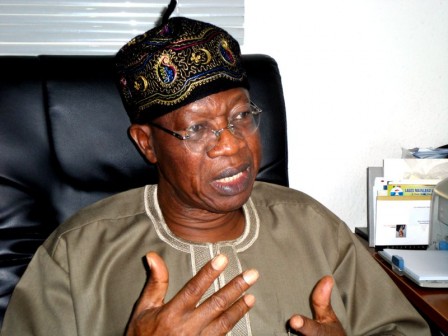 The Federal Government said on Saturday that it recovered 182 completed buildings, an uncompleted one and five maritime vessels from treasury looters.
This is contained in government interim report on financial and asset recoveries from May 29, 2015 to May 25, which was made available to newsmen by the Minister of Information and Culture, Alhaji Lai Mohammed.
Specifically, the report said that the Economic and Financial Crimes Commission (EFCC) recovered 145 completed buildings while the Independent Corrupt Practice Commission (ICPC) recovered 33 completed and one uncompleted buildings.
The Office of the National Security Adviser (ONSA) was said to have recovered four completed buildings.
In the report, the EFCC also recovered the five maritime vessels and three vehicles while the ICPC recovered 22 farmlands, four plots of land and 22 vehicles.
The report further stated that from the cash recovered from the looters, the EFCC had N39.2 billion, 128.5 million dollars, 2,355 Pounds and 11,250 Euros as cash at hand.
It stated that N4.6 billion and 40.7 million dollars were paid as royalties, taxes and payments to the Federal Government account with JP Morgans in New York.
According to the report, funds recovered in the accounts of ONSA with the CBN totaled N5.7 billion and eight million dollars while Value Added Tax (VAT) recovered from companies by ONSA was N529.6 million.
Similarly, N19.3 billion and 435,253 dollars were said to be in the EFCC recovered fund account with the CBN, while N5.5 billion and 5.5 million dollars respectively were said to be with the Office of the Attorney-General of the Federation.
In the report, the ICPC revenue collection recovery in CBN was totaled at N869.9 million while its cash asset recovery was put at N2.6 billion.
The Department of State Security (DSS) recovered assets summed at N47.7 million, 1.9 dollars and 3.5 pounds.
According to the report, from the money starched in foreign accounts by looters, N321 million dollars is being awaited for repatriation from Switzerland, while 6.9 million pounds is expected from the UK.
The United Arab Emirate was expected to repatriate 310.5 million dollars and 11.826 million Euro, while the U.S. would return 6.2 dollars million from starched fund in the respective countries,'' it said.
The report also gave breakdown of recoveries under interim forfeiture in cash and assets which amounted to over N126.6 billion, 9.09 billion dollars 2.5 million pounds and 303,399.17 Euros.