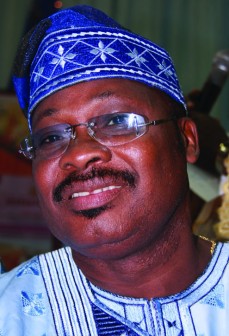 Gbenro Adesina/Ibadan: The Oyo State Chapter of the Nigeria Labour Congress, NLC, on Saturday demanded the immediate release of its chairman, Comrade Waheed Olojede and six others arrested by the state government.
The union further charged the state government to withdraw the charges levelled against them in the court.
The NLC described the arrest and subsequent prosecution of the labour leaders as a ploy to force the union to support the planned privatisation of secondary school education by the Abiola Ajimobi-led administration.
Addressing journalists at the union's secretariat at Agodi, Ibadan, the treasurer, Comrade Bosun Daramola, said that the union's leaders should not only be released from Agodi prison custody, government should also pay the outstanding salaries and arrears of workers in the state.
The police arrested Olojede and six others and charged them to a magistrate court last Friday on a seven-count charge bordering on breach of public peace and damage of public property.
The unionists were accused of disrupting a stakeholders' meeting organized by the Oyo State government to address issues on the proposed privatisation of selected secondary schools in the state.
The accused persons could not meet the bail conditions slammed on them by Chief Magistrate Jamiu Adebisi and were remanded in prison custody.
The conditions include two sureties with national identity cards, work identity card, three years tax clearance and a sum of N200,000 for each of the accused persons.
In his speech, Daramola said, "the union was aware that the arrest, arraignment and incarceration of our union leaders was a deliberate gimmick of the Oyo State government to weaken the determination of the union to lead the entire suffering workers in the state.
"The union would like to inform the public and parents of students in public schools in the state that they remain resolute and no amount of arrest and prosecution of the union leaders would deter them from the struggle to rescue public schools in the state from being sold.
"The public educational system in Oyo State and other parts of the country is enmeshed in crisis, characterized by inadequate facilities for proper learning. The union will continue to defend the economic rights of the Nigerians working masses and urge all individuals or religious organizations who may be interested in buying over the public schools to rescind the decision. We say Oyo public schools are not for sale".
The union also demanded for proper and adequate funding of the education sector, including payment of living wages and other incentives for educational workers and likewise the immediate payment of six months outstanding salaries and pension arrears.