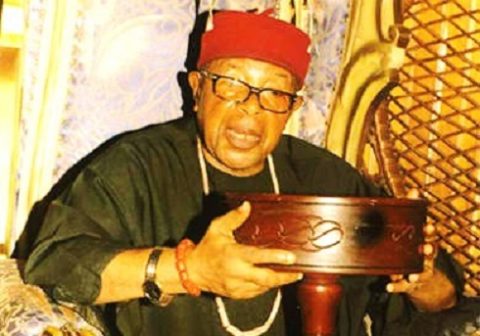 President Muhammadu Buhari has paid a glowing tribute to the late Owerri monarch, Eze Emmanuel Emenyonu Njemanze, describing him as a monarch of candor and character, qualities that are rare today.
In a condolence message, made available to the media in Abuja by Garba Shehu, Senior Special Assistant on Media and Publicity, the President said that Eze Emmanuel Njemanze was an outspoken traditional ruler who was not afraid of telling truth to power despite the risks involved, especially when it concerned matters of public interests and the wellbeing of ordinary people.
"As an outstanding pharmacist with a public service career that flourished till he ascended the throne of his ancestors in 1989, Eze Njemanze knew the appropriate use of power and the meaning of public office. This was why he did not hesitate to condemn the abuse of public trust and highhandedness by political office holders whether during the military or the civilian administration whenever it occurred.''
President Buhari added: "The Nigerian nation knew the contributions of the late royal father to the peace that is common in the city of Owerri and the support and cooperation that were mutual between Eze Njemanze and his people of Owerri in particular and Imo State in general.
"That enabled them to restore the dignity of Owerri as a land of decency and character when fraudsters violated it and attempted to turn it into a land of ritual killers and dubious men in the mid 1990s''
While praying God to receive the soul of the departed monarch, the President urged the family he left behind and the people of Owerri and Imo State to mourn their late king with dignity and solemnity, as he was a man of peace whom it pleased God to reward with a long and fruitful life.
President Buhari urged the Imo State government and the royal family to ensure peace in the kingdom and to work for a peaceful, orderly funeral and succession of the traditional ruler.