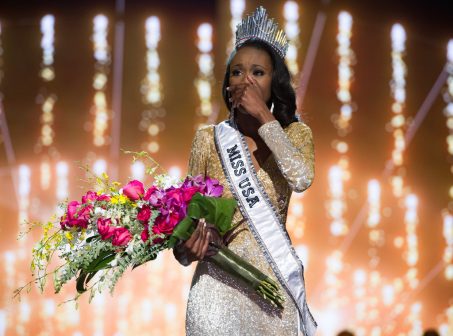 Miss Deshauna Barber, a 26-year old Army officer from the District of Columbia, has been crowned winner of the 2016 Miss U.S. pageant.
Barber, an Information Technology analyst at the Department of Commerce, triumphed over 51 other contestants, including first runner-up, Chelsea Hardin, representing Hawaii, to claim victory in the annual contest.
The other finalists included contestants from Georgia, Alabama and California.
Barber is an American model, beauty queen and officer in the United States Army Reserve.
She emerged Miss District of Columbia USA 2016 on Dec. 19, 2015, the state she represented at the national pageant.
The new Queen was crowned by outgoing Miss USA, Olivia Jordan of Oklahoma, at the event which was held at the T-Mobile Arena in Las Vegas.
Barber is the eighth African-American woman to wear the crown.
She will go on to compete as the U.S. representative at the annual Miss Universe pageant later this year.