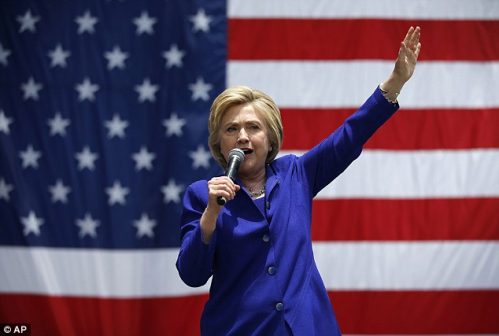 Without the fanfare of an election night victory Hillary Clinton was declared the winner of the Democratic nomination this on Monday as she campaigned in Los Angeles.
The Associated Press, which runs the premiere delegate-tracking service, first made the call and was quickly followed by NBC News, CNN and CBS.
Almost eight years from the day that she bowed out of a tight race against Barack Obama, Clinton made history with the announcements, becoming the first woman to top a major political party's ticket in the United States.
AP determined tonight that Clinton had enough super delegates in her corner to win the nomination at this summer's convention without the votes that will be cast in Tuesday's elections in six states and one final contest next week in the District of Columbia.
'According to the news we are on the brink of a historic, historic, unprecedented moment,' Clinton said at a rally in Long Beach, California.
An hour later a defiant Sanders took the stage in San Francisco and swatted down the projections, telling supporters that if he wins in California, 'we're going to go into that convention with enormous momentum.'
Worried about a depressed turnout in California, a state she won in 2008, Clinton urged her supporters not to be complacent and stay at home on Tuesday.
'We still have work to do, don't we. We have six elections tomorrow, and we're gonna fight hard for every single vote, especially right here in California,' she said.
Sanders trails her by just two points in the giant state with 39 million residents and could grab headlines late Tuesday with a victory after Clinton has claimed the Democratic nomination.
Clinton needed 2,383 delegates total to become the nominee.
AP determined she had exactly that much support this evening, when the super delegates – party insiders who get to cast a vote at the convention – are included in the tally.
Clinton had an advantage over her rival of 291 pledged delegates at the time. Pledged delegates are appropriated proportionally to the candidates after each contest.
Sanders had hoped to make gains tomorrow in California, where 475 pledged delegates are on the table,.
He spent 18 days straight on the trail in the state and boasted Monday that he'd stood before 217,000 of the state's voters.
On Saturday, he warned media outlets, like the Associated Press, to hold off from calling the race before the polls in California had closed.
'It simply is not accurate,' to report that Clinton has secured the nomination until the super delegates vote at the July convention, he said.
Sanders committed then to staying in the race until the convention even if he didn't win by his projected margin this Tuesday.
She told CNN's Chris Cuomo on May 19 that the primary was all but over.
'I will be the nominee for my party, Chris. That is already done in effect,' she told him. 'There is no way that I won't be.'
Sanders rebuffed her for the remark, calling it 'presumptuous' in a statement and 'arrogance' on 'Jimmy Kimmel Live.'
By that point, Clinton had moved on from the primary. Her next swing on the trail she dedicated all of her time to whacking her assumed general election Republican nominee Donald Trump.
Clinton dedicated a San Diego foreign policy speech to taking down Trump last week, throwing her hardest punches at him yet.
For his part, Sanders wavered between tepid language about Clinton and full blow attacks on the Democratic Party establishment as he drove up and down the state.