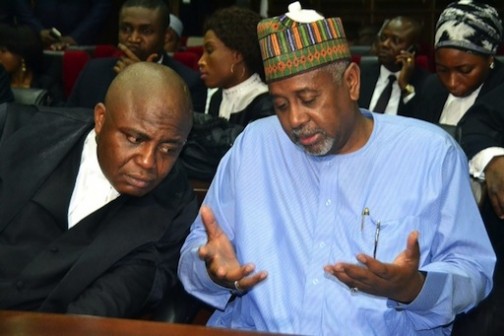 The Court of Appeal in Abuja on Wednesday dismissed an appeal filed by retired Col. Sambo Dasuki to discontinue his trial at the lower courts due to his continued detention against court order.
Dasuki is standing trial at the Federal High Court Abuja and the High Court of the FCT on Money Laundering, abuse of office and embezzlement of public funds amounting to 2.1 billion dollars.
Delivering the judgment, Justice Abdul Aboki, said the appeal was based on the ruling of the High Court of the FCT given on Dec.18, 2015 which granted him bail.
Aboki said the appellant had challenged his re-arrest after fulfilling his bail terms on Dec. 29, 2015.
"Having gone through the argument, studied the arguments presented by the parties, this panel holds that the appeal lacked merit and hereby dismissed,'' Aboki held.
Dasuki, through his counsel, Mr Joseph Daudu (SAN), had invited the appellate court to decide whether it was right for him to be re-arrested after fulfilling his bail terms.
The appellant had also asked the court to decide whether the action of the Federal Government was not in violation of his rights.
Dasuki further asked the court to rule that the criminal actions brought against him were abuse of court processes.
The appellant further asked the court to stop the Federal Government and its prosecution agencies from appropriating and reprobating in the circumstance.
On his part, Mr Rotimi Jacobs (SAN), Counsel for the EFCC, prayed the court to dismiss the appeal for lacking in merit because the appellant had misdirected the appeal by listing EFCC as the only respondent to the matter.
According to him, the EFCC has not violated the order of Court deliver on Dec.18, 2015 in any ways.
"My Lords, the EFCC is not holding Dasuki in its detention facilities anywhere in the country.
"The warrant which authorises the release of the appellant after fulfilling his bail conditions was directed to the Comptroller of Prisons where he was held at that material time.
"To depose to an affidavit suggesting that EFCC was instrumental to Dasuki's re-arrest was a fatal error,'' he said.
Jacobs also said that the order of the High Court of the FCT which granted the appellant's bail application expired as soon as he (Dasuki) was released from detention on Dec.29, 2015.
"The order either stopped his re-arrest, further investigation or prosecution.
"In any case, the EFCC is not privy to his re-arrest. The Department of State Service (DSS) that re-arrested was not even served the order.
"It is only trite in law to notify a body or an institution on the pendency of an order in criminal matters before such can be honoured. To the best of my knowledge, the DSS is not aware of such an order,'' he said.