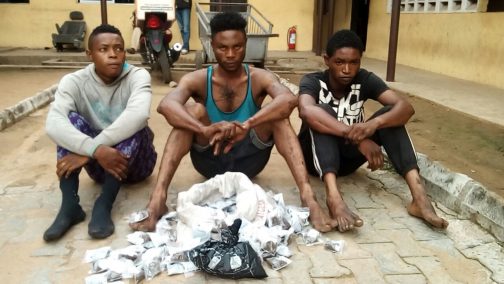 Kazeem Ugbodaga
Operatives of the Lagos State Taskforce have arrested three notorious members of the 'Awawa Boys' cult group who have been terrorizing Agege area of Lagos, Southwest Nigeria.
Those arrested include the leader of the gang, Tobi Akinbayo, a.k.a Scorpion. The others are Muyideen Olayinka and Ibrahim Olaniran.
The Chairman of the Lagos State Taskforce, Olayinka Egbeyemi, while parading the suspects on Wednesday confirmed that the activities of the gang had been giving his agency and other state security services sleepless nights.
He said there had been reported cases of rape, armed robbery and killing of innocent citizens by members of the gang in recent times, giving security officials a lot of worry.
Egbeyemi disclosed that the agency received lots of petitions about activities of the Awawa Boys and that he directed the surveillance unit of the agency to closely monitor their activities at different parts of the state.
He said this had greatly assisted in their arrest around Aluminum Village, Dopemu in Agege.
The taskforce boss disclosed further that he had widened the scope of the Surveillance Unit of the agency to cover other parts of the state where these notorious boys had been terrorising innocent members of the public.
He said those arrested would be charged to court and appealed to members of the public to be vigilant about their immediate environment and to always report activities of any terror group to the taskforce.
Leader of the gang, Scorpion, confessed that he and his boys raped, burgled and killed innocent citizens who confronted them during any of their operations around Dopemu area.
"We sell Indian helm to commercial bus drivers and area boys around Dopemu and its environs," he said.
He confessed further that they forcefully raped a young girl (name withheld) in the area on 5 May, 2016.
The President of the Aluminum and Accessories Association, Aluminum Village, Dopemu Branch, Mr. Biliaminu Oladimeji, disclosed that he and his members, including residents around the area had lost several millions of naira to activities of the 'Awawa Boys' and other dangerous groups around the area.
He commended the taskforce for smashing the gang.
According to him, different terror group leaders and their boys charged them between N1,000 and N2,000 per day as security levy and that any of their members who refused to pay would have his stall or shop burgled over night.
Mr. Ejike Okoronto, an aluminum trader at Dopemu alleged that members of the gang invaded his shop on 23 March, 2016 and carted away aluminium accessories worth N3 million overnight.
A 12-year old (name withheld), who was raped said Scorpion jumped through the fence to gain entrance into their room on that faithful day while her mother went to the market and tied her mouth with the scarf on her head and raped her.
She said her mother, who could not do anything because of fear of being attacked, quickly took her to Abeokuta where she was treated and that since then, she had been living in Abeokuta at her late father's house.

Load more