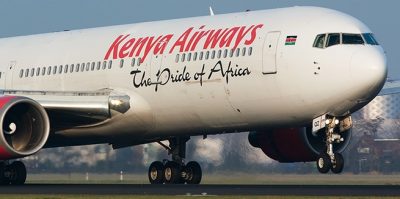 Kenya Airways on Friday laid-off 80 of its staff in the first phase of a major restructuring as part of efforts to cut costs and increase revenue.
The Airline's CEO, Mbuvi Ngunze, said the restructuring would affect various departments and all cadres of staff.
He however explained that the process would be in compliance with labour laws, Collective Bargaining Agreements and individual staff members' contracts as appropriate.
"The decision communicated above is not made lightly," Ngunze said in a statement issued in Nairobi.
"I also want to thank our people affected in this process for their commitment and hard work and wish them every success in their future endeavors," he added.
Kenya Airways, which had been recording reduced profits for the last four years, embarked on a programme dubbed Operation Pride last year.
The programme is aimed at improving profitability, revisit operating model and network and seek long-term sustainable financial structure.
Ngunze said the company had made substantial changes on some aspects of its business in the last few months.
"We are on track with our plan, having successfully implemented some of the initiatives such as the sale and sub-lease of aircraft, reduction of waste in catering and renegotiation of some contracts," he said.
Load more