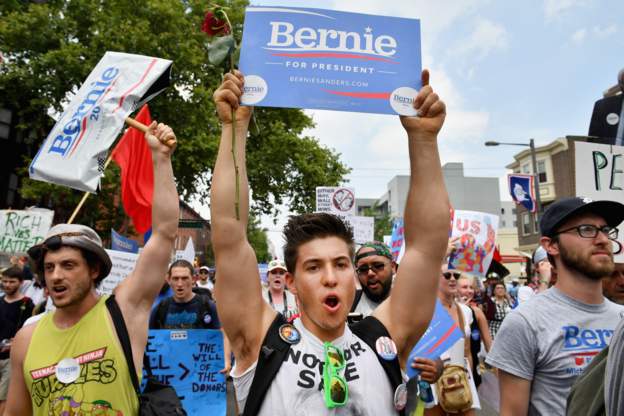 Tensions are running high as Democratic convention in Philadelphia gets under way with Bernie Sanders supporters disrupting activities with protest over ill-treatment of their mentor.
Sanders is seeking to mollify his supporters after emails showed that Democratic officials plotted against his campaign. He was booed when he told his supporters they needed to back nominee Hillary Clinton.
First Lady Michelle Obama, Senator Cory Booker and Senator Elizabeth Warren are among other speakers on Monday. President Barack Obama and former President Bill Clinton will speak later in the week.
The BBC's Ashley Gold spoke to protesters earlier in the day who said they were still fighting for Bernie Sanders.
Some demonstrators said they would rather vote for Green Party candidate Jill Stein than cast their ballot for Clinton.
"Hillary became the nominee with the DNC helping her the whole time, so I don't think she needs our help," Joshua Camacho told the BBC.
"It's just a matter of finally feeling like we're being heard, and I don't think anybody here feels like anybody is listening to us."
Multiple US media outlets are reporting that Clinton and Sanders' floor whip teams are joining forces in an effort to calm a raucous crowd that continues to interrupt speakers.
Constant booing from the audience has made it difficult to convey party unity in the City of Brotherly Love.
Bernie Sanders emailed his delegates, urging them to resist booing or engaging in any protest on the convention floor.
Sanders' national press secretary, Symone Sanders also took to Twitter to show support for the party.
Symone Sanders emphasised the election was not stolen from the Sanders campaign, despite revelations from leaked DNC emails over the weekend.
Norman Solomon, a Bernie Sanders delegate from California who serves as national coordinator of the Bernie Delegates Network, says Hillary Clinton has a big problem on her hands.
Mr Solomon told reporters that he's polled two-thirds of Sanders delegates at the Democratic National Convention, and more than 80% of them object to Virginia Senator Tim Kaine as the party's vice-presidential nominee.
Mrs Clinton's pick is too closely tied to the establishment they have been condemning, he contends, too much of a "neo-liberal" with corporate ties. Mrs Clinton should have opted for a more progressive alternate if she wanted to unify the party, he said.
"Putting him on the ticket is not reaching out," he said. "If that's reaching out, it's political thumbs put in the eyes of Bernie Sanders supporters."
Several of Solomon's fellow California delegates echoed his concerns, pointing to the hacked Democratic National Committee emails as further evidence that the Democratic Party powers have no interest in supporting the Sanders "revolution" despite his strong showing during the primary season.
"Since the moment we got here, people have looked down on us as we walked past them with our Bernie campaign swag on," said Manuel Zapata. "They throw party unity around like that's something that will trigger us to jump for joy when they mention her name, yet everything in the past year has pulled away from party unity."
Now, for Zapata, that frustration is boiling over into anger.
"We find it a little disrespectful that a madman like Donald Trump is reaching out to the progressive vote more than Hillary Clinton is," he said.