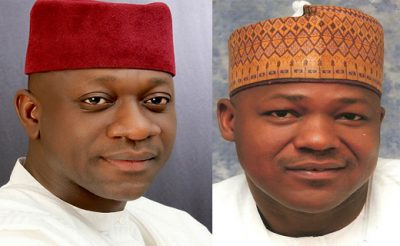 Former Chairman of the House of Representatives Committee on Appropriations, Abdulmumin Jibrin, has accused the Speaker of the House, Yakubu Dogara of attempting to break into his office and removing vital documents and computers.
Jibrin had last week opened a can of worms on the 2016 budget when he accused Dogara and two other principal officers of the House of padding the budget by as much as N40 billion.
Jibrin, in a statement on Thursday, alleged that the Speaker tried to break into his office in an attempt to destroy critical documents regarding the allegations of budget padding against him, Dogara.
The former Chairman, Appropriations Committee of the House, said unknown to Dogara, he had in his possession evidences backing the claims.
"There has also been an attempt to break into my office at the House. I know he wants to tamper with documents critical to his and the 3 others future investigation and prosecution but unfortunately for him we already have enough evidence in our possession. The security and anti corruption agencies should kindly take note.
"Speaker Dogara has ordered that all the computers in the appropriation secretariat be shut down and moved to his office as if that is the answer to the allegations I raised.
"The secretariat staff are being harassed to keep quite and suppress facts," Jibrin stated.

Load more