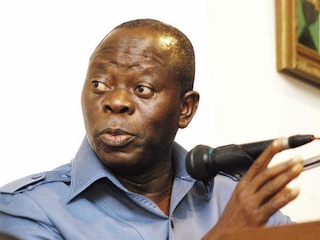 Governor Adams Oshiomhole of Edo State says Chief Tom Ikimi,a chieftain of the Peoples Democratic Party, PDP, lacks electoral value because he does not connect with people of his community.
Speaking at a rally of the All Progressives Congress, APC, in Igueben, on Friday, Oshiomhole said despite all the mobilisations and financial support to him by the party to win elections for the party, he never won any election in Igueben.
He said: "When chief (Ikimi) was with us, for all the time the chief was with us, we were losing elections in Igueben, we never won Igueben one day.
"When the youths come, he will talk to them arrogantly and say 'when I was Foreign Affairs Minister, you can't come to my house, I have no time to talk to you, I know my age, I'm an architect, I was a foreign Minister', those were his language, but I told him times have changed. He said they carried his pot of soup and ran to PDP, he got to PDP, he was going to their pot, but the PDP got broken. Now there is no pot, there is no soup. One snake, two heads.
"Now God has put confusion in PDP, that is their reward for under-developing Nigeria, for carting away Nigeria's resources. After Chief Ikimi left, in the last election, we defeated PDP and now the Speaker is from Igueben. I'm happy, without Chief Ikimi, we are now winning Igueben."
He listed the roads and schools the APC had done in Igueben, adding that "we have resolved to relocate the College of Education at Ekiadolor and move it fully to Igueben. That means we will have to build more structures at Igueben College of Education and employ more senior lecturers."
Candidate of the APC, Mr. Godwin Obaseki said he would do more for the people of Igueben, saying: "you saw what we did before, and because we have a plan and know what to do, we will build more schools, build more roads, we sink an industrial borehole in every city.
"We are going to provide jobs, that is the most important thing for us now. We are moving our politics of oil to the politics of development which means we have to use the resources available in our communities to develop our communities.
"Politics of development means that we will invite investors, people who will bring private capital to invest in Igueben. So that we can have large-scale agric. farms, so that we can process what they produce."
He added that: "We will make sure we support our women, because our mothers and sisters know how to manage the economy. We will make provision for micro-finance loans to all our women in all our markets, that is the way to support and grow the economy."
A former member of the State House of Assembly, Kingsley Ehigiamusoe, and several other former leaders of the PDP led over 400 PDP members to join the APC at the rally.
He thanked Oshiomhole for what the APC had done for the people of Igueben, urging his supporters to join the APC train and vote in Obaseki because "the PDP has discredited itself and we can't go back to Egypt."
—

Load more