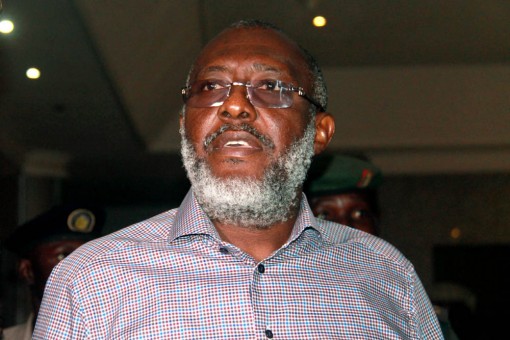 Chief Olisa Metuh has denounced claim linking him the Niger Delta Avenger, saying that information being circulated in public about his involvement are false.
Metuh, a chieftain of the Peoples Democratic Party, PDP, in a statement he personally signed said his attention had been drawn to a false and misleading report circulating in a section of the media, heinously listing his name as one of the sympathizers of the Niger-Delta Avengers.
"Ordinarily, I would not have responded to this given that I have since chosen to conduct my affairs with the decency and comportment of someone involved in a well-celebrated trial and with a severe spinal problem. I am also not unaware of the series of false reports against my person in the past few months. However, on this occasion I have chosen to respond, as this particularly borders on matters affecting national security.
"Indeed, I believe this is a wicked, cruel and devilish plot to link me with such activities and at this very time, especially as the claim is outrightly false. For the avoidance of doubt, I hereby state categorically that I do not have any relationship or association whatsoever either as a sympathizer or sponsor of any militant group, including the Avengers," he said.
"I therefore find it very cruel that any person would in any manner whatsoever attempt to associate my name with anything to do with this group or its operations and I still wonder what the motive behind this sinister plot is.
"While I restate my decision not to be drawn into any controversy at this time, it is pertinent that I reiterate that my only preoccupation now remains matters concerning my health and extant court trial as I continue to conduct my affairs with dignity and single-mindedness.
"I call on the Federal Government and security agencies to immediately investigate and arrest Cynthia Whyte, who purportedly circulated the report and ensure that they get to the root of this matter. This is a security issue and nobody should be allowed to play politics with it," he added.