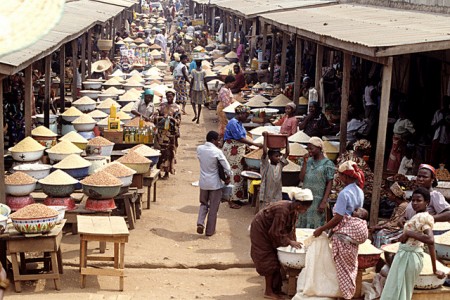 Traders in Omu-Aran, Kwara, have expressed concern about low patronage of food and other consumables in recent times because of increase in prices.
The traders spoke with the News Agency of Nigeria (NAN) in various market locations in Omu-Aran on Sunday.
A visit by NAN correspondent to some of the markets at Oja-Oba, Ago-Oru and Latinwo showed that food items such as rice, yam tubers, Gari, yam flour, bread and tomatoes were worst hit by low patronage.
A bag of flour which used to be N8, 600 now sold at N11, 000 while a bag of sugar now sold for N9, 000 as against N7,000.
Alhaja Awawu Alebiosu, a rice seller, said the increasing price of rice leading to the scarcity of the commodity had remained a source of concern to traders.
"How do you explain the current N18, 000 per a bag of rice as against the N9, 000 sold few months ago," she asked?
"I have been in this business for more than 20 years, but this is becoming unbearable for both the sellers and buyers," Alebiosu said.
Mrs. Funmilayo Adio, a trader, blamed the situation on the free fall of the naira against the dollar, saying she was forced to reduce her stock of tomato and groundnut oil pending the time the situation would improve.
"The whole essence is to further monitor the situation for improvement following the low level of patronage being experienced daily," she said.
Alhaji Abdulrahman Oloyin, a baker, blamed the stringent economic policy, especially the ban on the importation of rice and other raw materials that could be produced locally, as a critical factor for the high prices.
"I think the policies needs to be reviewed so that it would not be total but a gradual process to allow Nigerians catch up with high market demand," he said.